Malevich, Kazimir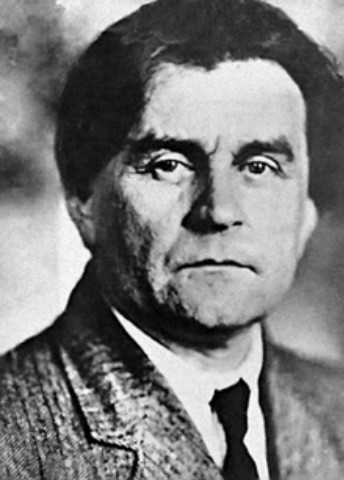 Malevich, Kazimir [Малевич, Казимир; Malevič], b 23 February 1878 in Kyiv, d 15 May 1935 in Leningrad. Painter, designer, and theorist. Born in Kyiv into a mixed Polish-Ukrainian family (his father was Polish, while his mother was a Ukrainian from the Poltava region), Malevich grew up in Ukrainian villages in the Chernihiv region where he became closely acquanited and deeply impressed by Ukrainian folk art. He studied at the Kyiv Drawing School under Mykola Pymonenko (1895–7), the Moscow School of Painting, Sculpture, and Architecture (1904–5), and F. Rerberg's studio in Moscow (1905–10). Influenced at first by the Impressionists and Fauvists, he participated in avant-garde exhibitions in Moscow, at which he displayed paintings in a neoprimitivist style, such as Village Woman with Pails and Child (1912) and The Harvesters (1912–13); cubo-futurist works, such as The Knife Grinder (1912); and paintings, such as An Englishman in Moscow (1914) and A Private of the First Division (1914), which show the influence of Pablo Picasso and Georges Braque's synthetic cubism.
In 1915 Malevich launched the artistic movement of suprematism in Petrograd. He was the first modern painter to work in a purely geometric, cerebral, nonfigurative manner (eg, his paintings Black Square [1913] and White on White [1918]). In 1916 he published the journal Supremus. Under Soviet rule he was a member of the Division of Visual Arts of the Russian Commissariat of Education; taught at the Vitsebsk Art Institute in Belarus (1919–22), the Leningrad Academy of Arts (from 1922), and the Kyiv State Art Institute (1927–9); and directed the Leningrad Institute of Artistic Culture (1923–6).
In the 1920s he began working in a constructivist style, in which he produced urban architectural models and furniture, textile, and china designs. He was a prolific writer and produced various theoretical works, notably The World as Non-Objectivity (English trans 1976), developed new educational methods, and established original theoretical frameworks for the analysis of paintings. His works and theories influenced a number of Soviet avant-garde artists, including the Russians Ilia Chasnik and El Lissitsky and the Ukrainians Vasyl Yermilov, Vadym Meller, and Anatol Petrytsky. In the late 1920s, because of growing opposition on the part of the central Soviet government to the avant-garde, Malevich was able to publish only 13 articles of his theories in the Kharkiv journal Nova generatsiia (1928–9). Having been forced to return to a figurative style of painting in 1929, he died in poverty and oblivion.
Many of Malevich's works are at the Museum of Modern Art in New York and the Stedelijk Museum in Amsterdam, which also has his archive. His writings have been translated into a variety of European languages.
BIBLIOGRAPHY
Douglas, C. Swans of Other Worlds: Kazimir Malevich and the Origins of Abstraction in Russia (Ann Arbor 1980)
Zhadova, L. Malevich: Suprematism and Revolution in Russian Art, 1910–1930 (New York 1982)
Douglas, C. Kazimir Malevich (New York 1994)
Milner, J. Kazimir Malevich and the Art of Geometry (New Haven 1996)
Nestor Mykytyn
[This article originally appeared in the Encyclopedia of Ukraine, vol. 3 (1993).]