Novakivsky Art School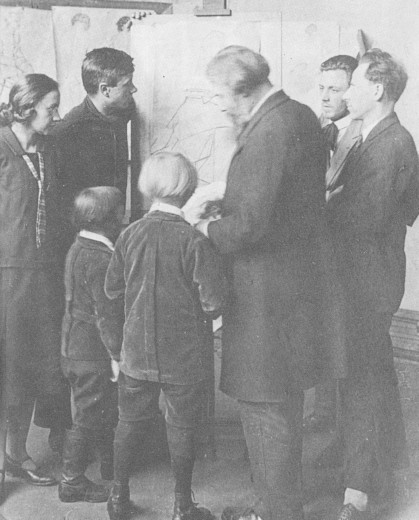 Novakivsky Art School [Мистецька школа Олекси Новаківського; Mystetska shkola Oleksy Novakivskoho]. A school of drawing and painting founded in February 1923 by Oleksa Novakivsky at his studio in Lviv. Initially (until 1925) it was associated with the Board of Ukrainian Higher Schools as a separate art faculty of the Lviv (Underground) Ukrainian Higher Polytechnical School. Although the school lacked a formal curriculum and awarded no diplomas, its enrollment expanded rapidly. Besides practical training its students were offered lectures (1925–9) on artistic styles and color chemistry by Volodymyr Peshchansky, Ukrainian art history by Metropolitan Andrei Sheptytsky and, later, by Ilarion Svientsitsky, drawing by Osyp Kurylas, anatomy by Stepan Balei, cultural history by Ivan A. Rakovsky, and perspective by Yevhen Nahirny. In 1926, 1928–9, 1930, 1932, and 1934 exhibitions of student work were held.
In 1929 Oleksa Novakivsky resisted the demands by students and the school's main sponsor, Metropolitan Andrei Sheptytsky, to expand the school's curriculum and hire Petro Kholodny as teacher of monumental painting. As a result, the school lost much of its public and financial support. Around 1932 it was dissolved because of insufficient community support and declining student interest. About 60 young people attended the school for various periods of time. Among them were later distinguished artists, such as Roman Selsky, Sofiia Zarytska, Hryhorii Smolsky, Mykhailo Moroz, Vasyl Diadyniuk, Antin Maliutsa, Sviatoslav Hordynsky, Stefaniia Gebus-Baranetska, Ivanna Vynnykiv, Olha Pleshkan, Stepan Lutsyk, Volodymyr Lasovsky, Edvard Kozak, and Myron Levytsky.
[This article was updated in 2014.]