Pochaiv Monastery Press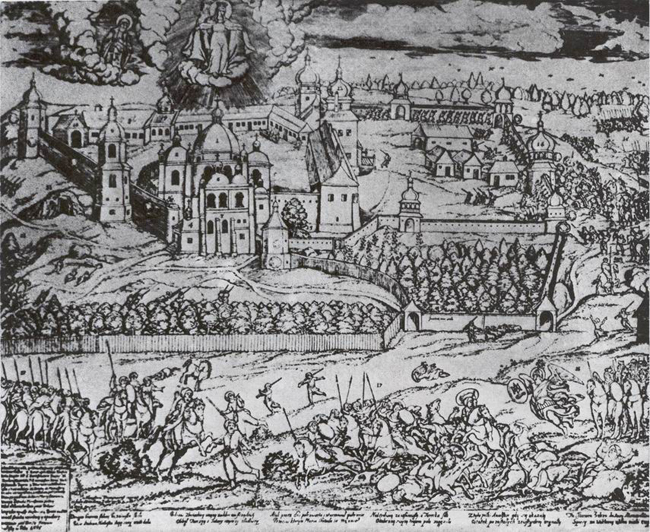 Pochaiv Monastery Press (Почаївська друкарня; Pochaivska drukarnia). An important early printing press in Ukraine, established at the Pochaiv Monastery in 1730 after it became a centre of the Basilian monastic order. Granted royal charters in 1732 and 1736, the press was subsidized by Bishop Teodosii Rudnytsky-Liubienitsky of Lutsk. Between 1731 and 1800 it published over 355 books, most of them liturgical ones, but also didactic gospels and theological books, works of polemical literature, literary works in Polish and Latin, collections of documents on Ukrainian church history, primers, textbooks, and educational works. Some of its editions—eg, Narodovishchanie (1756), a collection of catechismal and didactic literature, and Bohohlasnyk (1790), a collection of poems and religious songs—were among the highest achievements of Ukrainian publishing and literature of the time.
The press's publications were known for their artistic ornamentation and the quality of their paper and print. Many were printed in the so-called Pochaiv cursive, a typeface based on Ukrainian calligraphy of the 16th to 18th centuries. Illustrations and engravings were done by well-known artists, such as Nykodym Zubrytsky, Adam Hochemsky and Yosyf Hochemsky, A. Holota, and Teodor Strelbytsky.
After the Pochaiv Monastery was taken over by the Russian Orthodox church in 1831, the press continued printing religious and secular books, including several on the history of Volhynia. It printed the eparchial newspaper of Volhynia gubernia (1867–1915) and the reactionary newspaper Pochaevskii listok, later a major organ of the Union of the Russian People. The press was closed down in 1918, and part of its equipment was moved to Kyiv and thence to Moscow and finally Warsaw.
BIBLIOGRAPHY
Tikhovskii, Iu. 'Mnimaia tipografiia Pochaevskago monastyria (s kontsa XVI do I-i chetverti XVIII v.)', KS, 1895, nos 7–9
Svientsits'kyi, I. Pochatky knyhopechatannia na zemliakh Ukraïny (Lviv 1924)
Ohiienko, I. Istoriia ukraïns'koho drukarstva: Istorychno-bibliohrafichnyi ohliad ukraïns'koho drukarstva XV–XVII v.v. (Lviv 1925; Winnipeg 1983)
Boiko, M. Knyhodrukuvannia v Pochaievi i Kremiantsi ta mandrivni drukari (Bloomington, Ind. 1980)
Zapasko, Ia.; Isaievych, Ia. Pam'iatky knyzhkovoho mystetstva: Kataloh starodrukiv, vydanykh na Ukraïni, vol 2, pts 1–2 (Lviv 1984)
Bohdan Kravtsiv
[This article originally appeared in the Encyclopedia of Ukraine, vol. 4 (1993).]