Prokhasko, Taras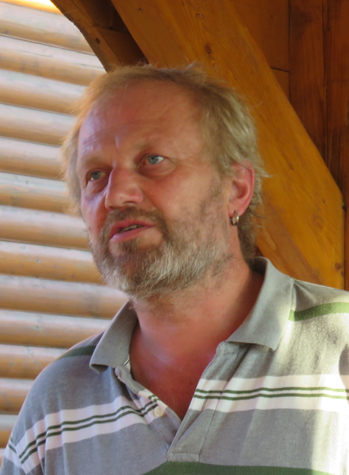 Prokhasko, Taras [Прохасько, Тарас; Proxas'ko], b 16 May 1968 in Ivano-Frankivsk, Ivano-Frankivsk oblast. Writer and translator. Prokhasko is one of the leading prose writers in post-Soviet Ukraine, whose books have garnered prestigious literary prizes both in Ukraine and internationally. He studied biology at Lviv University, specializing in botany. For many years, he has worked as a columnist for various periodicals, most prominently for Halyts'kyi Korespondent and Zbruch. A person of versatile talents, Prokhasko also worked as a radio operator, an editor, a bartender, a radio host, a forester, a teacher, a gallery proprietor, a screen writer, a video operator, and a gardener.
Prokhasko began to write at the time when the Soviet Union was collapsing, a time during which he participated in civil group protests in Ukraine, including the Revolution on Granite in Kyiv in 1990. His early literary career was closely tied to the journal Chetver and to the so-called Stanislav Phenomenon, both important features of the 1990s Ivano-Frankivsk literary scene. Prokhasko's prose is marked by a languid pace and a gentle tone, enchanting his reader to pause and notice overlooked details of everyday life. For him, seemingly mundane objects, people, and locales emit stored wisdom capable of comforting man's existential concerns in a bustling modern world. Oftentimes, Prokhasko's writing maintains a fable-like sensibility, which the author uses to dangle latent lessons at the conclusions of his works. Prokhasko consistently experiments with form in his prose, continuing to find new manners of presenting his exploration of life's essence in his work and determinedly expanding upon the possibilities of expression in the Ukrainian language. He regularly collaborates in various diverse audio and visual performances of his literary works ranging from a cycle of radio broadcasts to an opera.
Taras Prokhasko's prose has appeared in the following publications: Inshi dni Anny (Anna's Other Days, 1998), FM Halychyna (FM Galicia, 2001), NeprOsti (The UnSimple, 2002), Leksykon taiemnykh znan' (Lexicon of Secret Knowledge, 2005), Z ts'oho mozhna bulo b zrobyty kil'ka opovidan' (Could Have Made a Couple of Stories from This, 2005), Port Frankivs'k (2006), Ukraïna (Ukraine, with Serhii Zhadan, 2006), Galizien-Bukowina-Express (with Jurko Prokhasko and Magdalena Blashchuk, 2007), Botakie (Because That's How It Is, 2010), Odnoï i toï samoï (One and the Same, 2013), Oznaky zrilosty (Signs of Maturity, 2014), and Tak, ale (Yes, But, 2019). In 2020, Tetiana Teren published Sotvorinnia svitu: Sim dniv iz Tarasom Prokhas'kom (The Creation of the World: Seven Days with Taras Prokhasko, 2020) based on a series of conversations she had with Prokhasno over the period of several days. His works have also appeared in many anthologies and journals published in Ukraine and abroad.
In 2003–4, Prokhasko published a number of books in his Inshyi format (A Different Format) series, which feature interviews he conducted with the following leading Ukrainian intellectuals: Yuri Izdryk, Oleh Lysheha, Yuri Andrukhovych, Oksana Zabuzhko, Archbishop-Metropolitan Borys Gudziak, Yaroslav Hrytsak, and Vasyl Herasymiuk. Prokhasko co-authored, with Mariana Prokhasko, four popular and award-winning children's books Khto zrobyt' snih (Who Will Make the Snow, 2013), Kudy znyklo more (Where Did the Sea Go, 2014), Iak zrozumity kozu (How To Understand a Goat, 2015), and Zhyttia i snih (Life and Snow, 2017).
Prokhasko's prose has been translated into Polish, German, English and Russian. The following publications feature his works in English: the novella Necropolis (in Two Lands New Visions: Stories from Canada and Ukraine, 1998); the novel The UnSimple [in the journal Ukrainian Literature, Part One in Vol. 2 (2007), Part Two in Vol. 3 (2011)]; and excerpts of FM Galicia (in The White Chalk of Days: The Contemporary Ukrainian Literary Series Anthology, 2017). Prokhasko has translated into Ukrainian writings by Stanisław Vincenz, Andrzej Stasiuk, Venedykt Ploshchansky, Czeslaw Chowaniec, Kamil Barański and Leon Streit.
Prokhasko is the recipient of the 2020 Shevchenko National Prize for Literature and the 2019 BBC Book of the Year Prize in the category of essays (both for Tak, ale); the 2013 Yurii Shevelov Prize (for Odnoi i toi samoi); the 2013 BBC Children's Book of the Year Prize, the 2013 LitAksent Children's Book Prize, and the 2013 Knyha Roku Prize (all for Khto zrobyt snih, together with Mariana Prokhasko); the 2007 Joseph Conrad Award, presented by the Polish Institute in Kyiv; Korrespondent magazine's 2006 Best Ukrainian Book of Fiction Award (for Z tsioho mozhna zrobyty kilka opovidan); and the 1997 Smoloskyp Prize.
Mark Andryczyk
[This article was written in 2021.]