Ritual songs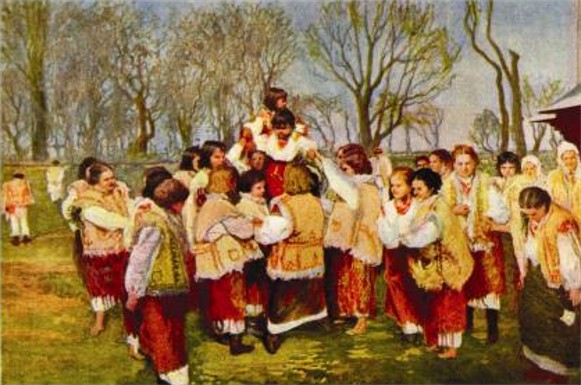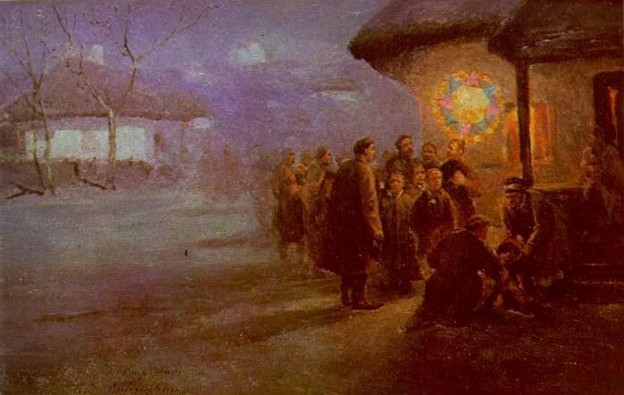 Ritual songs (обрядові пісні; obriadovi pisni). Folk songs that accompanied important changes in a person's life and the seasonal cycles in farming. Calendric ritual folk songs include carols or koliadky and shchedrivky (on Christmas and Epiphany), Shrovetide songs, vesnianky-hahilky and ryndzivky (on Easter), tsarynni and rusalka songs (on the Rosalia), Saint Peter's day songs, haymowers' and rakers' songs, Kupalo festival songs, harvest songs, vechernytsi songs, and songs to Saint Nicholas. The ritual songs of family life include christening songs, wedding songs, and funeral hymns and laments. At one time ritual songs were believed to possess magical powers: they could ensure a bountiful harvest and the well-being of the persons mentioned in them. Eventually they lost their magical meaning and were regarded simply as entertaining or expressive. All ritual songs contain some ancient pagan elements mixed with more recent, mostly Christian, elements. The majority of them are tied to ritual acts, games, dances, and folk customs.
After the October Revolution of 1917 attempts were made to integrate ritual songs with newly created civic celebrations and rituals. There were also attempts to create artificial new songs praising 'the happy Soviet life' and thanking the Communist Party, Vladimir Lenin, or Joseph Stalin for it. These songs did not catch on and did not become part of daily life. In the last few years there has been a marked revival of traditional rituals and songs, particularly of carols and wedding songs.
Ukrainian ritual songs have been collected and studied by J. Lasycki, Hryhorii Kalynovsky, Pavlo Chubynsky, Yakiv Holovatsky, Ivan Franko, Volodymyr Hnatiuk, Oleksander Potebnia, Mykhailo Hrushevsky, Viktor Petrov, Kostinatyn Koperzhynsky, Filaret Kolessa, Klyment Kvitka, Zenon Kuzelia, O. Dei, Volodymyr Hoshovsky, and Orest Zilynsky.
BIBLIOGRAPHY
Dei, O. Narodno-pisenni zhanry (Kyiv 1979; 2nd edn, 1983)
Mykola Mushynka
[This article originally appeared in the Encyclopedia of Ukraine, vol. 4 (1993).]