Saint Cyril's Monastery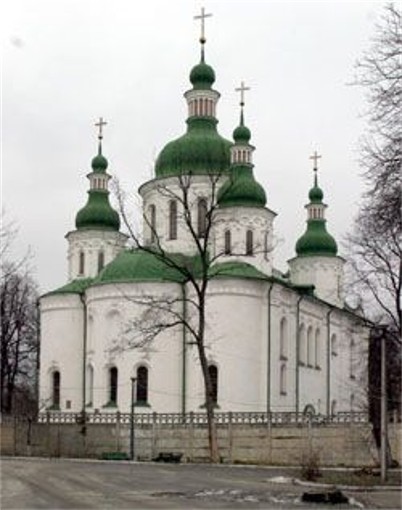 Saint Cyril's Monastery (Kyrylivskyi manastyr). A monastery founded by Grand Prince Vsevolod Olhovych ca 1140 on the outskirts of medieval Kyiv. Its church, Saint Cyril's (photo: Saint Cyril's Church), was built ca 1146; a cruciform construction with three naves and apses, six pillars, and a single dome, it served as the mausoleum of the Olhovych house of the Chernihiv branch of the Riurykide dynasty (eg, Sviatoslav III Vsevolodovych, Vsevolod Sviatoslavych Chermny) in the 12th and 13th centuries. The monastery was partially destroyed by the Mongols in the 13th century. It was rebuilt under the supervision of Hegumen V. Krasovsky in 1605. In the mid-18th century a baroque pediment and four octagonal cupolas were added to the church, and in 1760 a stone campanile designed by Ivan Hryhorovych-Barsky, with a church on its second story, was built above the monastery's gate.
In 1786 the monastery was secularized and turned into a hospital and home for the handicapped. Saint Cyril's Church remained in use, however. In 1881–4 marble choir parapets and a new marble iconostasis (designed by Adrian Prakhov) were installed in the church; its medieval frescoes were restored, under the supervision of A. Prakhov, by Mykola I. Murashko, Ivan Izhakevych, Ivan Seleznov, Khariton Platonov, and Mykola Pymonenko of the Kyiv Drawing School, and by Mikhail Vrubel, who also painted new murals in the vaults and narthex and the four icons of the iconostasis. (Photo: Interior of the Saint Cyril's Church.) In 1929 the monastery's grounds were classified as the Saint Cyril State Preserve and the church was turned into a museum. The campanile was dismantled in 1937–8. Now the church and an extant 18th-century section of the monastery's wall and corner tower constitute a branch of the Saint Sophia Museum. The church's frescoes are fine examples of 12th-century Ukrainian art and the influence of Bulgarian-Byzantine art on it. They depict the Nativity of Christ, the Presentation of Christ at the Temple, the Eucharist, the Annunciation, the Dormition, the Last Judgment and Apocalypse, an angel gathering the heavens into a scroll, the apostles, the evangelists, and various prophets and martyrs. Murals of saints—Saint Cyril and Saint Methodius, Saint John the Macedonian, Saint Euphemios—adorn its pillars, and compositions depicting Saint Cyril teaching the heretic, teaching in the cathedral, and teaching the emperor are found in the southern apse.
BIBLIOGRAPHY
Prakhov, A. Otkrytie fresok Kievo-Kirillovskoi tserkvi XII v., ispolnennoe v 1881 i 1882 gg. (Saint Petersburg 1883)
Sovetov, A. Kievo-Kirillovskaia tserkov': Tserkovno-arkheologicheskoe issledovanie (Kyiv 1914)
Asieiev, Iu. 'Arkhitektura Kyrylivs'koho zapovidnyka,' in Arkhitekturni pam'iatnyky: Zbirnyk naukovykh prats' (Kyiv 1950)
Arkadii Zhukovsky
[This article originally appeared in the Encyclopedia of Ukraine, vol. 4 (1993).]