Stockholm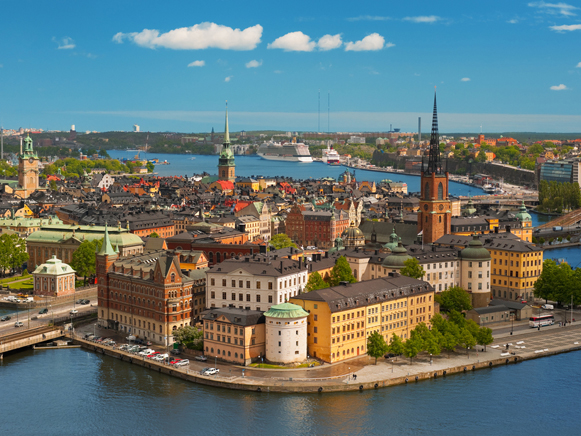 Stockholm. The capital of Sweden (2020 pop 975,551, metropolitan area pop 2,391,990). References to Ukrainians in Stockholm before the First World War are sporadic. In 1654 Daniel Oliveberg de Graecani Atheniensis, an emissary of Hetman Bohdan Khmelnytsky, arrived at the court of Charles X Gustav. Pylyp Orlyk lived in the city with an entourage of 24 men in 1715–20, and some of his correspondence with Swedish officials has been preserved in the local state archive.
During the First World War Osyp Nazaruk headed a representation of the Union for the Liberation of Ukraine in the city. In 1916 a Ukrainian press bureau headed by Volodymyr Stepankivsky was established there. In 1918–21 B. Bazhenov and then Kost Losky headed the mission of the Ukrainian National Republic in Stockholm. Its secretary, the painter O. Maidaniuk, later remained in the city. Modest Menzinsky sang with the Stockholm Royal Opera in 1904–10 (usually as a first tenor), returned to perform in 1914–17, and then settled in Stockholm in 1926. Oleksander Myshuha was another leading operatic tenor to perform in the city, where he also taught (1919–21).
The small Ukrainian community grew largely after the Second World War. At its height it numbered about 200; at the end of the 1980s it stands at approx 50. The Ukrainian Hromada in Sweden was established in 1947 and has been headed successively by V. Fedorchuk, V. Butko, K. Harbar, and B. Zaluha. In 1949–55 the Ukrainian Press Bureau was headed by Bohdan Kentrzhynsky. He also published Stokhol'ms'kyi visnyk. In 1950–60 Yu. Borys headed the Ukrainian Academic Club, and in 1948–61 the Ukrainian Hromada named after Hetman Pylyp Orlyk was headed by V. Dekhtiar.
Arkadii Zhukovsky
[This article originally appeared in the Encyclopedia of Ukraine, vol. 5 (1993).]