Stus, Vasyl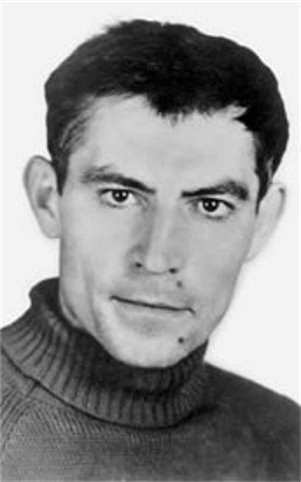 Stus, Vasyl [Стус, Василь], b 8 January 1938 in Rakhnivka, Haisyn raion, Vinnytsia oblast, d 4 September 1985 in Soviet strict-regime concentration camp no. 389/36-1, Perm oblast, RSFSR. Dissident poet. Stus studied at the Donetsk Pedagogical Institute and began his graduate work at the Institute of Literature of the Academy of Sciences of the Ukrainian SSR in 1964. A year later, because of his protests against the secret arrests and closed trials which were becoming prevalent, he was expelled from the institute, and in 1972 he was arrested. He was sentenced to five years of strict-regime labor camp followed by three years of exile. While in exile he joined the Ukrainian Helsinki Group, and for that he was rearrested in 1980 and sentenced to 10 years of strict-regime labor camp and 5 years of exile. A man of uncompromising principles, Stus refused to kowtow to the regime and was subjected to constant persecutions, which finally were responsible for his death. After facing repeated refusals and bureaucratic impediments, family and friends received permission to transfer his body to Ukraine. On 19 November 1989 a procession of over 30,000 mourners attended the interment of Stus and two other dissidents (Oleksa Tykhy and Yurii Lytvyn) at the Baikove Cemetery in Kyiv. The event became a manifestation of national solidarity and censure of the repressive regime.
Stus began writing poetry as a student, and some of his poems appeared in the journals Dnipro and Zmina in 1963–5. Because of his activities in the dissident movement, his first collection of poems was not printed. Although he continued to write while he was incarcerated, the KGB systematically confiscated and destroyed his work. Up to 600 poems and translations from Johann Wolfgang von Goethe, Rainer Maria Rilke, Rudyard Kipling, and Charles Baudelaire were destroyed in 1976. Some poems miraculously survived and were smuggled out to the West, where Stus's poetry appeared in several collections. The first collection, Zymovi dereva (Winter Trees, 1970), was followed by Svicha v svichadi (A Candle in a Mirror, 1977) and the posthumous Palimpsesty: Virshi 1971–1979 rokiv (Palimpsests: Poems of 1971–9, 1986). The first collection to appear in Ukraine was an underground samvydav collection, Povernennia (The Return), which appeared in Ivano-Frankivsk in 1990. Final 'acceptance' came also in 1990, with the publication of the first official edition of his poetry, Doroha boliu (The Road of Pain). In 1992 two collections were published in Ukraine: Vikna v pozaprostir (Windows into Beyond-Space), containing his poetry, articles, letters, and diary excerpts, and Zolotokosa krasunia (The Golden-Braided Beauty), containing Stus's poetry found in the KGB archives. A 4-volume (in 9 books) edition of Stus's works was published in Lviv in 1994. A project of publishing a 12-volume edition of Stus's collected works was initiated in 2007 by his son Dmytro Stus.
Traditional in form, Stus's poetry began as 'lyricism of actuality,' in the manner in which the poets of the 1970s responded to the realities of the day. Content prevailed over form, message over myth, and the satire found in the poetry of the 1960s often turned to scorn, anger, and abuse. The poetry written behind bars, however, is more serene; it expresses a longing, philosophical contemplation of life, nature, man the prisoner, and man the jailer, and reveals Stus's attempt to come to some synthesis with respect to the contradictions of the human experience.
BIBLIOGRAPHY
Zinkevych, Osyp; Frantsuzhenko, Mykola (comps and eds). Vasyl' Stus v zhytti, tvorchosti ta otsinkakh suchasnykiv (Baltimore 1987)
Pavlyshyn, Marko (ed). Stus iak tekst (Melbourne 1992)
Orach, Oleh (ed). Ne vidliubyv svoiu tryvohu ranniu: Vasyl' Stus—poet i liudyna: Spohady, statti, lysty, poeziï (Kyiv 1993)
Danylo Husar Struk
[This article was updated in 2009.]