Surgery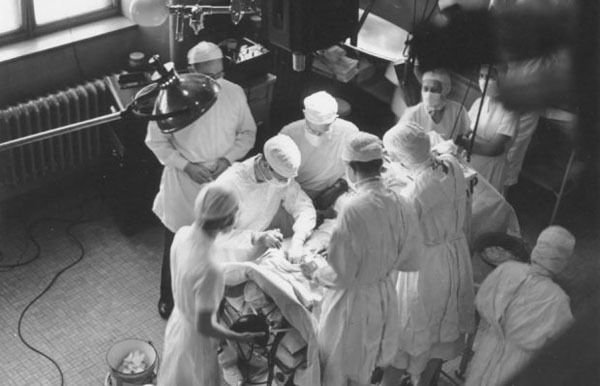 Surgery (хірургія; khirurhiia). A branch of medicine that deals with the treatment of illness, injuries, malformations, and other disorders by manual and instrumental means. In Kyivan Rus' folk medicine included operations performed by kostopravy (bonesetters), rizalnyky (cutters), and zubovoloky (tooth-pullers). In the late Middle Ages, in some areas up to and including the 19th century, the tsyrulnyk (barber-surgeon) treated people by administering ointments, bloodletting, pulling teeth, and setting broken bones, dislocations, and sprains. Guilds for tsyrulnyky were formed in Kyiv (15th century) and Lviv (1715), the members of which had to pass a practical examination after their training. Some tsyrulnyky also removed urinary bladder stones, performed amputations, and did hernia repair.
The first medical-surgical schools were established in Ukraine at the time of Tsar Peter I in conjunction with the military needs of the Russian Empire. By the end of the 19th century a noticeable development in surgery resulted when problems of anesthesia, antisepsis, and aseptics were resolved. General surgery was subdivided into many specialized branches: ophthalmology, gynecology, otolaryngology, urology, thoracic surgery, neurosurgery, and heart surgery and organ transplants.
The early contributions made by Nikolai Pirogov were followed by the work of Volodymyr Karavaiv, Pavlo Zablotsky-Desiatovsky, Yulii Shimanovsky, and O. Yatsenko, and later of Nikolai Sklifosovsky, Mykola Volkovych, Oleksii Krymov, Ivan Ishchenko, O. Avilov, Aleksandr Arutiunov, Mykola Amosov, A. Romodanov, and Oleksander Shalimov.
Research is conducted at the Kyiv Scientific Research Institute of Clinical and Experimental Surgery and the Kharkiv Scientific Research Institute of General and Emergency Surgery, as well as at departments of surgery at medical institutions of higher learning, institutes for the upgrading of physicians, and scientific societies of surgeons. The journal Klinicheskaia khirurgiia was published in Russian in Kyiv.
(See also Medicine and Veterinary medicine.)
BIBLIOGRAPHY
Deinek', I.; Maraienko, F. Korotki narysy istoriï khirurhiï v Ukraïns'kii RSR (Kyiv 1968)
Shalimov, O.; Khokholia, V. Pro khirurhiv i khirurhiiu (Kyiv 1979)
Paul Dzul
[This article originally appeared in the Encyclopedia of Ukraine, vol. 5 (1993).]