Touring theaters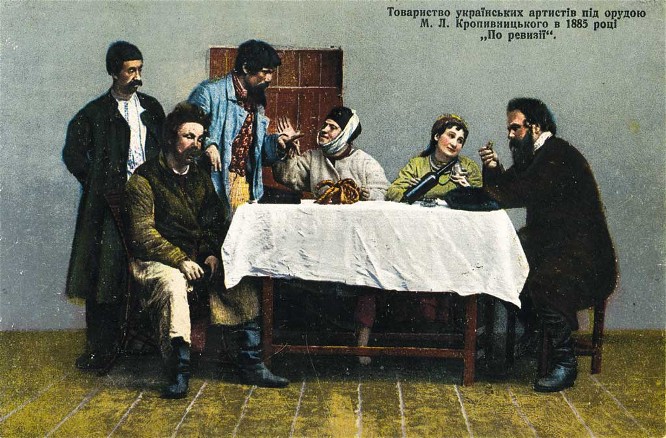 Touring theaters (пересувні театри; peresuvni teatry). Touring theaters in Ukraine evolved in the 18th century from serf theater and amateur theater and (except for Sadovsky's Theater in Kyiv) were the only form of Ukrainian theater until 1917. At the beginning of the 19th century there existed mixed Ukrainian-Russian-Polish troupes, such as those under I. Shtein, Liudvig Mlotkovsky, A. Zmiievsky, Petro Rekanovsky, Omelian Bachynsky, and Hryhorii Kvitka-Osnovianenko. The first professional Ukrainian theater was the touring Ruska Besida Theater, established in 1864 under Bachynsky.
After the ban on theater performances was lifted in Russian-ruled Ukraine, in 1881, leading troupes led by Marko Kropyvnytsky, Mykhailo Starytsky, and Mykola Sadovsky, Saksahansky's Troupe, and others also became touring theaters. Some toured outside Eastern Europe; Heorhii Derkach's troupe, for example, toured France in 1893–4. Because of severe censorship their repertoire consisted mainly of populist-ethnographical plays, and only after 1905 were translated dramas occasionally performed. By this time there were approximately 300 touring theaters in Ukraine. In the face of censorship and the tsarist ban on resident Ukrainian theaters they were the vanguard of the Ukrainian theater movement, and they developed an impressive number of outstanding performers, including Mariia Zankovetska, Hanna Borysohlibska, Ivan Marianenko, Dmytro Haidamaka, Kateryna Luchytska, Olena Petliash-Barilotti, Hnat Yura, and Ivan Zamychkovsky. They also spawned an antipodal genre, the fringe-grotesque lubok theater.
In 1916–18 the Theater of the Legion of Ukrainian Sich Riflemen toured throughout Galicia and along the front. The New Lviv Theater toured under the auspices of the Ukrainian Galician Army in 1919–20. In Vinnytsia the touring Franko Ukrainian Drama Theater was founded by Hnat Yura in 1920. During 1920–39 touring theaters were active in Western Ukraine in Galicia (the Zahrava Theater, the Tobilevych Theater, Yosyp Stadnyk's Union of Ukrainian Actors, the Ukrainskyi Teatr Co-operative, Stadnyk's Artistic Tour, Ivan Kohutiak's Ukrainian Touring Theater, and Opanas Karabinevych's Sadovsky Ukrainian Drama Theater), in Volhynia (N. Boiko and O. Mitkevych's troupes), in Bukovyna (a drama section in the Bukovynian Kobzar Association and Sydir Terletsky's troupe), and in Transcarpathia (the Ruthenian Theater of the Prosvita Society and, later, Nova Stsena Theater). A Western Galician touring theater, Melpomena, headed by M. Aidariv, successfully toured throughout Poland in 1933–7, including Cracow, Kielce, Łódź, and Warsaw voivodeships in its tour. In eastern Ukraine, for the first few years after 1917, agitprop theater existed as a form of touring theater, whose activities consisted mostly of concert-meetings under the auspices of the Soviet Army. In the 1920s there appeared workers' and peasants' touring theaters (since 1929 workers' and collective-farm theaters), which also sponsored touring displays on housekeeping, educational, and sanitary topics and were subordinated to the larger resident theaters. There were also touring theaters of small forms, such as Veselyi Proletar in Kharkiv, the Poltava Chervonyi Perets Theater, touring contemporary variety theaters, and the Siiach touring theater from Poltava (1923–7). From 1961 oblast-level theaters were responsible for touring to towns, workers' settlements, and collective farms.
Valeriian Revutsky
[This article originally appeared in the Encyclopedia of Ukraine, vol. 5 (1993).]