Ukrainian Conservative Republican party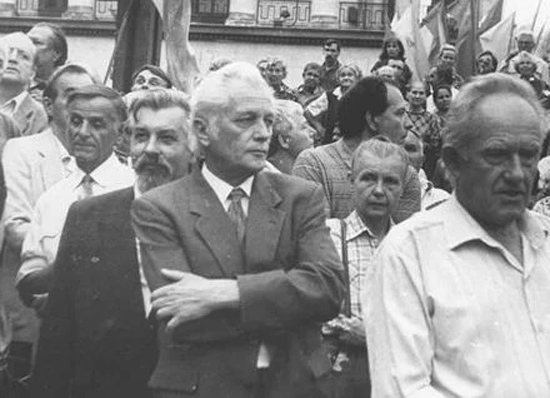 Ukrainian Conservative Republican party (Українська консервативна республіканська партія or УКРП; Ukrainska konservatyvna respublikanska partiia or UCRP). A short-lived, ultra-nationalist political party created by Stepan Khmara who with his supporters had broken away from the Ukrainian Republican party (URP) at its third congress in 1992. It won two seats in the 1994 elections to the Supreme Council of Ukraine. In 1998, it joined the URP and Congress of Ukrainian Nationalists in an electoral alliance called National Front which gained 2.7 per cent of the proportional ballot vote for no seats, but did win in six single-member districts. In 2001, the party merged with Yuliia Tymoshenko's Batkivshchyna party.
Registered with the ministry of justice on 21 July 1992, as party number 270, its program aimed to establish a unitary Ukrainian state in the form of a parliamentary republic ruled by the Ukrainian nation. The nation should be based upon strong families which together would form a healthy society. The party was against cosmopolitanism, internationalism, Russification, and discrimination against Ukrainians. It advocated a market economy and was opposed to foreign ownership in agriculture and the service sector. In the cultural realm it demanded de-Russification, de-Communization, preservation of national treasures, and freedom of thought. Its aim would not be to struggle for power, but to fight for a sovereign Ukrainian state. It failed to attract a significant number of voters to its cause and was officially deregistered in July 2003.
The party's leader, Stepan Khmara, who had served in the Supreme Council of Ukraine from 1990 to 1998, was then elected on the Yuliia Tymoshenko's Bloc's party list (as no. 10) in 2002, now a member of her Batkivshchyna party. In 2005, he became a member of the Ukrainian People's party led by Yurii Kostenko, and the following year was an unsuccessful candidate for a seat in the Supreme Council from the Ukrainian popular bloc of Kostenko and Ivan Pliushch (no. 13 on its list). The bloc won 1.9 per cent of the vote and therefore no seats. As with nearly all of the dozens of so-called parties contesting elections in post-communist Ukraine following the 1991 Ukraine's Declaration of Independence which were personality-led, Stepan Khmara's UCRP made almost no impact on Ukrainian politics. Khmara appeared to have ultimately abandoned his project in the face of the Ukrainian electorate's overwhelming indifference to his viewpoint and the ruling elite's staying power.
BIBLIOGRAPHY
Khmara, S. Desiat' rokiv nomenklaturnoï nezalezhnosti (Kyiv 2002)
Bohdan Harasymiw
[This article was written in 2023.]