Rivne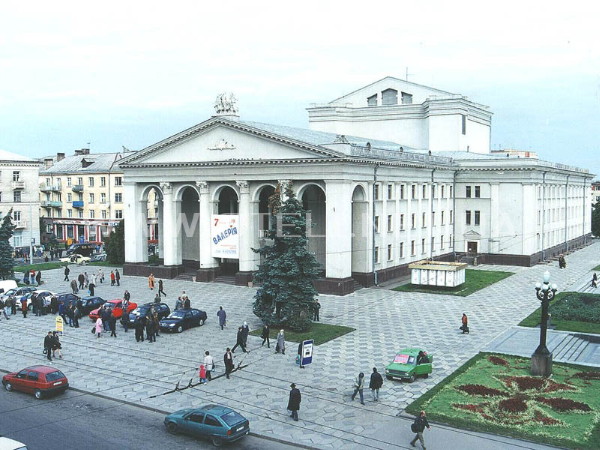 Rivne [Рівне; aka Ровно; Rovno]. Map: III-7. A city (2013 pop 250,333) on the Ustia River and the administrative center of Rivne oblast. The town developed out of a settlement around a fortress in the Principality of Galicia-Volhynia. It is first mentioned in historical documents in 1282, as the site of a battle between the Polish prince Leszek Czarny and the Lithuanian noble Vitenas. In the second half of the 14th century it became part of the Grand Duchy of Lithuania, and by the end of the century it had been granted the rights of Magdeburg law. Because of its convenient location on the Kyiv–Volodymyr-Volynskyi trade route the town prospered as a commercial center. In 1518–1621 it was owned by the Ostrozky princes. With the Union of Lublin (1569) Rivne became part of the Polish-Lithuanian Commonwealth. With the partitioning of Poland in 1793 it was annexed by Russia and was made a county center of Volhynia gubernia (from 1797).
Toward the end of the 19th century Rivne developed from a small administrative and trading town into a major railway junction on the Odesa–Warsaw (1873), Lviv–Zdolbuniv–Rivne, and Rivne–Lunynets–Vilnius–Saint Petersburg lines. Its population jumped from 6,300 in 1870 to 24,600 in 1897 and 33,700 in 1911. From the 1890s over half the population was Jewish.
In 1917–19 the city was controlled intermittently by the Ukrainian National Republic government. It was awarded to Poland by the Treaty of Riga in 1921. Rivne was occupied by the Soviet Army in 1939 and set up as the center of a new oblast. In 1941 it was captured by the Germans and turned into the administrative center for Reichskommissariat Ukraine. In November 1941 and July 1942 respectively the Germans killed approximately 18,000 and 5,000 local Jews. Soviet troops reoccupied Rivne in 1944.
Since the 1950s Rivne has developed rapidly as an industrial center. Its main industries are machine building (tractor assemblies, high-power equipment), the metalworking industry, the building-materials industry, the construction industry, light industry (linen manufacturing), and food processing (meat packing, fruit canning, and confectionery). Rivne remains an important railway junction. It has seven special secondary schools, eight vocational schools, and three higher educational institutions, including Rivne State Humanities University, Rivne National University of Water and Nature Resources Management, and Rivne International University of Economics and the Humanities. The city supports the Rivne Ukrainian Music and Drama Theater and a puppet theater, a philharmonic orchestra, and five museums, including the Rivne Regional Studies Museum. It had two oblast papers, Chervonyi prapor and Zmina. Now its city paper is Rivne vechirnie. Its chief architectural monuments are the Dormition Church and belfry (1756), the gymnasium building (1839), and the Resurrection Cathedral (1890).
[This article was updated in 2014.]