Slavinsky, Maksym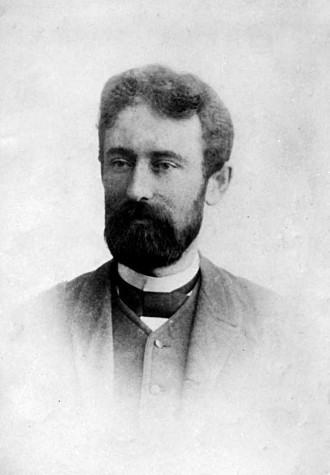 Slavinsky, Maksym [Славінський, Максим; Slavins'kyj] (Slavynsky; pseudonyms: M. Holovaty, S. Lavynsky, Obozrevatel, Observator), b 12 August 1868 in Stavyshche, Tarashcha county, Kyiv gubernia, d 23 November 1945 in Kyiv. Civic and political leader, publicist, and poet. After graduating from the law faculty of Kyiv University he lived in Katerynoslav, where he edited the newspaper Pridneprovskii krai. From 1898 he lived in Saint Petersburg, where he was a coeditor of the progressive newspaper Severnyi kur'er and the journal Vestnik Evropy. He was editor of Ukrainskii vestnik (Saint Petersburg) (1906), the organ of the Ukrainian caucus in the Russian State Duma, and then official publisher and technical editor of Ukrainskii narod v ego proshlom i nastoiashchem (The Ukrainian People in Its Past and Present, 2 vols, 1914, 1916). He became a member of the Ukrainian Party of Socialists-Federalists (1917–18), and in 1917 he was a representative of the Central Rada to the Provisional Government in Saint Petersburg. He was elected head of the commission to develop proposals for the restructuring of the Russian Empire as a federation.
Slavinsky returned to Ukraine in 1918. Under the Hetman government he was a member of the council of the foreign affairs ministry, ambassador to the Don region, and a participant in the talks with Soviet Russia (May–June 1918). In the second government of Fedir Lyzohub (1918) he was minister of labor. Under the Directory of the Ukrainian National Republic he headed the diplomatic mission of the Ukrainian National Republic in Prague (1919). From 1923 Slavinsky taught modern history at the Ukrainian Husbandry Academy and the history of Western European literature at the Ukrainian Higher Pedagogical Institute in Prague. He was arrested by the Soviet authorities in Prague in 1945, and died in a Kyiv prison.
Slavinsky wrote many historical, literary, and publicistic articles on nationhood, including 'Shcho take natsiia?' (What Is a Nation?), 'Natsiia i inteligentsiia' (The Nation and the Intelligentsia), and 'Natsional'na struktura Rosiï' (The National Structure of Russia), as well as a popular textbook on the history of Ukraine (published in 1947). He also wrote lyric poetry. Together with Lesia Ukrainka Slavinsky translated and published Heinrich Heine's Buch der Lieder as Knyha pisen' (1892); some of the songs became immensely popular, particularly 'Koly rozluchaiut'sia dvoie' (When Two [People] Part; music by Mykola Lysenko). Slavinsky also translated the works of Johann Wolfgang von Goethe, Adam Mickiewicz, and Romain Rolland and works from Czech literature. His memoirs were published in the newspaper Ameryka (Philadelphia) during the 1950s.
Arkadii Zhukovsky
[This article originally appeared in the Encyclopedia of Ukraine, vol. 4 (1993).]