Matsiievych, Arsenii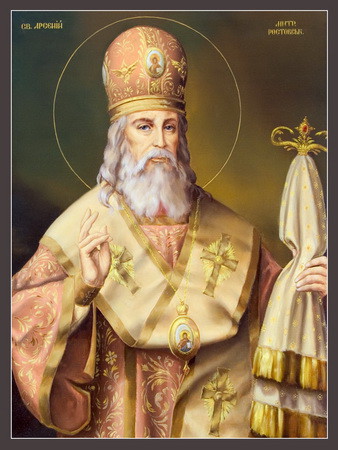 Matsiievych, Arsenii [Мацієвич, Арсеній; Macijevyč, Arsenij] (secular name: Oleksander), b 1697 in Volodymyr-Volynskyi, d 11 March 1772 in Revel (Tallinn), Estonia. Orthodox metropolitan, theologian, preacher, and writer. The son of a Uniate priest, he studied at the Varenytsia and Lviv colleges and, from 1715, at the Kyivan Mohyla Academy. In Kyiv he converted to Orthodoxy, and in 1716 he was tonsured at the Novhorod-Siverskyi Transfiguration Monastery. He was ordained a hieromonk in 1723. After a brief stay at the Trinity–Saint Elijah's Monastery in Chernihiv, he worked as a missionary in Siberia, there engaging in lengthy polemics with Old Believers. Matsiievych was consecrated metropolitan of Tobolsk and Siberia (1741), and then metropolitan of Rostov and Yaroslavl (1742) and a member of the Holy Synod. In these positions he was in constant conflict with secular and religious authorities. He protested against secular control of the Synod (which had been essentially reduced to a government department) and advocated the re-establishment of the patriarchal system. He was especially critical of Catherine II's religious policies and her secularization of monastery and church property in Ukraine (in 1763 he even pronounced an anathema on those who wanted to seize church estates). For his actions Matsiievych was stripped of his ecclesiastical rank and exiled to a monastery. When he continued his protests and criticism of Catherine II, he was defrocked (1767) and imprisoned in solitary confinement in Revel. The majority of Matsiievych's polemical and theological writings were not published, but a volume of his sermons appeared in the 1740s, and his biography of Saint Dymytrii Tuptalo was published in several editions.
BIBLIOGRAPHY
Ilarion (Ohiienko, Ivan). Mytropolyt muchenyk Arsenii Matsiievych (Winnipeg 1964)
Ivan Korovytsky
[This article originally appeared in the Encyclopedia of Ukraine, vol. 3 (1993).]
This subject is not referenced in any other entries in the Internet Encyclopedia of Ukraine.