Saint Nicholas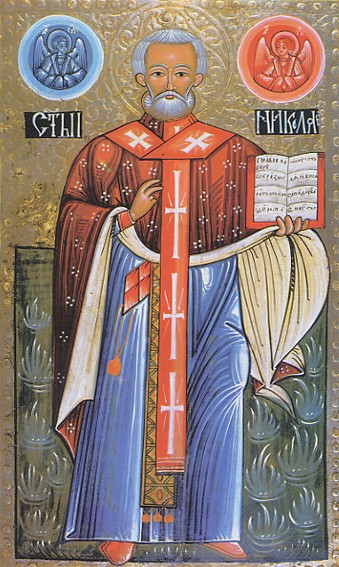 Saint Nicholas (Sviatyi Mykolai). One of the most popular saints of the Eastern and Western churches. Little is known about him except that he was bishop of Myra (now in Turkey) in the 4th century, and that he was probably born in Patara (near modern Kalamaki, Turkey). Legends of his charity, especially toward children, and of miracles associated with him, soon spread throughout Europe. In Ukraine the cult of Saint Nicholas was probably introduced by Bishop Yefrem (according to some sources, a metropolitan of Kyiv ca. 1089–98), to whom a popular manuscript on the miracles of Saint Nicholas is attributed. According to chronicles a church in Saint Nicholas's honor had already been built in Kyiv during the reign of Prince Ihor (d 945).
In Ukrainian folk tradition there are two figures known as Saint Nicholas. One, 'warm Nicholas,' was celebrated in the spring, on 22 May (9 May OS), and the other, 'old Nicholas,' was commemorated in the winter, on 19 December (6 December OS). The warm Nicholas was considered to be the patron saint of agriculture. He was said to walk the land, examining the freshly sown fields, 'drying places over-damp, and dampening those over-dry' after the winter. On the festival, householders would lead their horses into the fields for the first night's grazing, shear sheep, and sow buckwheat. Saint Nicholas was called upon to protect livestock from wolves, and his name frequently appeared in shepherds' prayers. He was also a patron of youth, particularly of orphans and poor girls. The latter he was said to assist in preserving their chastity and in seeking a husband.
In the Kyiv region and Podilia a feast known as nykol'shchyna was held on 22 May. Ukrainian Cossacks considered Saint Nicholas to be patron of the seas. When venturing out to sea the Cossacks would hold a church service in his honor and would carry icons with his likeness. They would pray to these icons for salvation if caught in violent storms, and there were numerous sailors' tales about their miraculous powers.
According to folk tradition the old Nicholas brought the first snow 'by shaking his beard.' He was considered the patron of spinning, and yarns and thread were often brought to church on his festival 'to add to his beard.' In Western Ukraine gifts were given to children on the eve of his feast day. The Ukrainian Catholic church encouraged the development of ritual plays and games depicting Saint Nicholas, an angel, and the devil (in appropriate masks and garb), which exhorted children to do good deeds. These plays, some of which were written by professional authors, were often staged by amateur theaters.
Saint Nicholas often appears in carols and legends. In Ukraine icons with his image were greatly cherished and found in virtually every home. His icon was also placed in an important position in iconostases, usually flanking Jesus, the Mother of God, or the patron saint of the church. In Ukraine Saint Nicholas was so popular that over time the 'functions' of other saints (such as Saint Michael the Archangel, Saint Andrew, Saint George, and Saint Barbara) were ascribed to him.
During the Princely era, according to Yevhen Onatsky, Ukrainians conducted pilgrimages to the relics of Saint Nicholas in Bari in southern Italy (where they had been taken in 1087 by Italian sailors). This tradition was revived in 1953 by Ukrainian émigrés on the initiative of Archbishop Ivan Buchko.
M. Mushynka