Armenian Cathedral in Lviv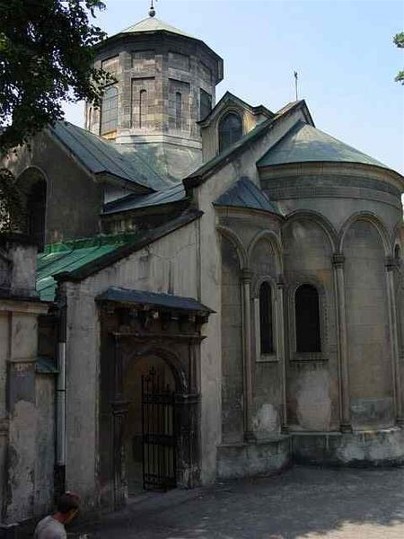 Armenian Cathedral in Lviv. (Photo: Armenian Cathedral.) A cathedral built in 1363–70 and designed by the architect Dorko (aka Doring) from Kaffa in the Armenian church style of the 14th century, but with Romanesque, Gothic style, and old Galician architectural elements. The cathedral is part of a complex of buildings consisting of the former monastery of the Armenian Benedictine monks, a cemetery, an archbishop's residence from the 16th century, and a printing press. The original cathedral had three apses and a twelve-sided tent-shaped dome. The vault and windows are bow-shaped. On the south side there is an open gallery in the Renaissance style, and on the east side, a portal. In 1570–71 a belfry in the Gothic-Renaissance style was added by the architect Petro Krasovsky. In the 17th century a sacristy with tomb monuments on the walls was built on the west side. In 1630 the main nave of the church was added; in 1723 it was restored in the European baroque style. In 1726 a decorative bas-relief in wood, entitled Golgotha, was added to the exterior. In 1908 the third part of the building— the western facade—was completed in a pseudo-oriental style by the architect F. Menchynsky.
In the 1920s the church was extensively restored. In the process fragments of Byzantine frescos of the 15th-16th century by Ukrainian painters were discovered in 1925. New murals were painted by J. H. Rosen. In the 1960s the cathedral, one of the most interesting architectural monuments in Lviv, was converted into a repository for icons removed from churches in the region as well as items from the National Museum (then known as the Lviv Museum of Ukrainian Art). In 1991 the Lviv municipal council voted to return the historical landmark to the local Armenian community, although the process dragged on for an extended period. The cathedral was finally reconsecrated in May 2003 by the head of the Armenian Apostolic church, Karekin II.
Sofiia Yaniv
[This article was updated in 2004.]