Chumak songs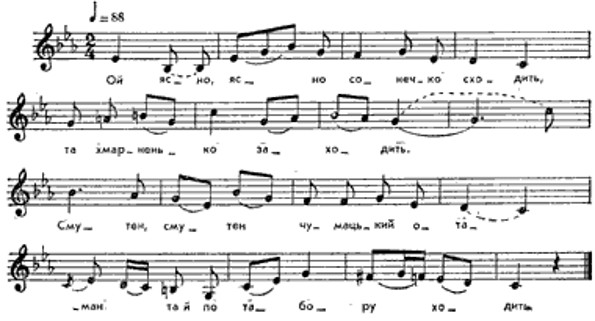 Chumak songs. Folk songs about the life and adventures of the chumaks. The themes of the songs are very diverse and deal with every aspect of the wagoners' daily life: their departure, the misery of their families, their nostalgia, the hardships of life on the road, the loss of oxen, Tatar attacks and robbers, illness and death, longing for a beloved, the hard life of a hired hand, momentary distractions, their return home, love and marriage, the longing of waiting wives. The conflict between familial feelings and the obligations of the trade is one of the frequent sources of drama in chumak lyrical poetry, which is permeated with a longing for good fortune. Some of the chumak songs, by their epic quality, are similar to that of the Ukrainian duma. The melodies of these songs are suited to the text: they depict the beauty of the steppe and the tragedy of illness and death on the road.
Some chumak songs originated at least five centuries ago. They belonged to the repertoire of the kobzars and lirnyks. Some of them were written down in the manuscript song books that appeared in the first half of the 18th century. They began to appear in print at the beginning of the 19th century. The first musical publication of chumak songs was done by Mykhailo Maksymovych in 1834, and the first systematic collection of chumak songs was published by Ivan Rudchenko in 1874. Arrangements of chumak songs were written by such composers as Mykola Lysenko, Kyrylo Stetsenko, Yakiv Stepovy, Oleksander Koshyts, Mykola Leontovych, Filaret Kolessa, and Lev Revutsky.
Chumak songs had an important influence on Ukrainian culture. They were used by Taras Shevchenko as models for such poems as 'Oi, ne piut'sia pyva' (O, Beer Is Not Being Drunk), 'U nedilen'ku ta ranesen'ko' (Early on Sunday Morning), and 'Nenache stepom chumaky' (As If Chumaks on the Steppe). Chumak themes are reflected in the prose of Marko Vovchok, Ivan Nechui-Levytsky, and Panas Myrny; in the dramas of Ivan Karpenko-Kary (the play Chumaky); and in the poetry of Yakiv Shchoholiv (eg, 'Chumat'ski mohyly' [Chumak Graves]). Mykhailo Kotsiubynsky's short story 'Na krylakh pisni' (On the Wings of a Song) expresses the thematic richness and beauty of chumak songs.
BIBLIOGRAPHY
Rudchenko, I. Chumatskie narodnye pesni (Kyiv 1874)
Revuts'kyi, D. Ukraïns'ki dumy ta pisni istorychni (Kyiv 1919)
Chumaky (Kyiv 1931)
Ukraïns'ki narodni pisni (Kyiv 1954)
Chumats'ki pisni (Kyiv 1976)
Petro Odarchenko
[This article originally appeared in the Encyclopedia of Ukraine, vol. 1 (1984).]