Horyn, Mykhailo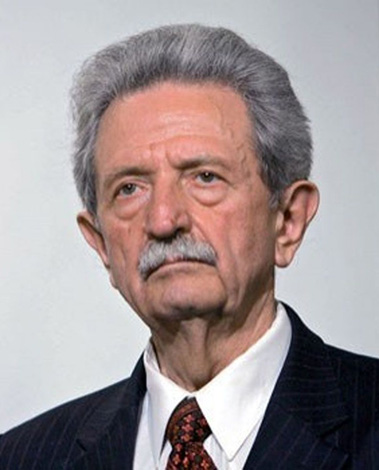 Horyn, Mykhailo [Горинь, Михайло; Horyn', Myxajlo], b 20 June 1930 in Kniselo, Bibrka county, Galicia, d 13 January 2013 in Lviv. Educator, psychologist, dissident, and politician; brother of Bohdan Horyn. A skilled and dedicated organizer, Horyn was the most prominent and politically astute representative of Western Ukrainian national-democratic dissent in the Soviet Union. He was raised in a family involved in Ukrainian nationalist activities prior to and during the Second World War. The family was slated for deportation into the Soviet interior after the re-occupation of Western Ukraine by the Soviet Army in 1944, but managed to avoid this fate. From 1949 to 1955 Horyn was a student in the Department of Logic and Psychology at Lviv University. From 1955 to 1961 he was a teacher, school director, and pedagogue, and from 1961 onwards he conducted research, in Lviv, on workplace psychology.
In 1962 Horyn established contacts with national rights activists from Kyiv, began to circulate samvydav literature, and was one of the organizers of the Lviv Prolisok Club of Creative Youth. On 26 August 1965 Horyn was arrested, charged with 'anti-Soviet agitation and propaganda,' and on 18 April 1966 the Lviv oblast court sentenced him to 6 years' imprisonment in accordance with Article 62-1, Criminal Code (CC) of the Ukrainian SSR. To punish him for continuing his protest and political activities in the Mordovian labor camp (Dubrovlag) in which he was imprisoned, Horyn was further sentenced to spend three of these six years in Moscow's Vladimir prison.
After his release on 26 August 1971 Horyn first worked as a laborer, and from 1977 onwards as a workplace psychologist. In 1976 he helped draw up the founding documents of the Ukrainian Helsinki Group (UHG), prepared and circulated other UHG materials, and was arrested on 3 November 1981. On 25 June 1982 he was sentenced, in accordance with Articles 62-1 and 179 of the CC of the UkrSSR, to 10 years' imprisonment and 5 years' internal exile. He officially joined the UHG in late 1982, while imprisoned. Seriously ill, he was released from imprisonment on 2 July 1987.
Horyn was soon involved, with Viacheslav Chornovil and others, in renewing the publication of Ukraïns'kyi visnyk (Ukrainian Herald) and organizing the Ukrainian Helsinki Association (UHA), a successor to the Ukrainian Helsinki Group. He was also a co-founder, in 1989, of the Popular Movement of Ukraine (Rukh), and during its first constituent congress he was elected head of Rukh's Secretariat and head of its Political Council. Horyn was responsible for a number of important initiatives during the crucial period preceding the 1991 Ukraine's Declaration of Independence and the referendum of 1 December 1991. For example, he proposed that a 'human chain of unity' link Kyiv and Lviv on 21 January 1990, and that a celebration of 500 years of Cossackdom be held in Zaporizhia in August 1990. He was also responsible for Rukh's organization of a Congress of National Minorities of Ukraine on 21 November 1991 in Odesa.
Horyn was elected to the Supreme Council of Ukraine as a deputy during its first convocation (15 May 1990 to 10 May 1994). In 1992–5 Horyn headed the Ukrainian Republican party (URP), one of the political parties emerging from the Ukrainian Helsinki Association, and was a co-founder of the Republican Christian party which emerged in 1997 after a split in the URP. From 2000 to 2006 Horyn also headed the Ukrainian World Coordination Council.
Horyn's letters and writings were published in several book collections, including Lysty z-za grat (Letters from behind Bars, 2005) Zapalyty svichu (To Light a Candle, 2009), and Vybrane (Selected Works, 2010).
BIBLIOGRAPHY
Berdychowska, Bogumiła; Hnatiuk, Ola (eds). 'U nas bula velyka misiia: Rozmova z Mykhailom Horynem' in Bunt pokolinnia: Rozmovy z ukraïns'kymy intelektualamy (Kyiv 2004)
Ivan Jaworsky
[This article was written in 2021.]