Illienko, Yurii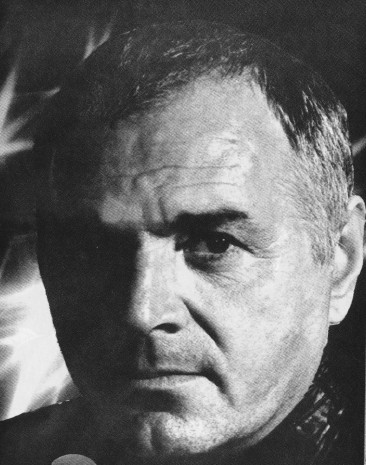 Illienko, Yurii [Іллєнко, Юрій; Illjenko, Jurij], b 18 July 1936 in Cherkasy, d 15 June 2010 in Prokhorivka, Cherkasy oblast. Film director and cinematographer; the brother of Vadym Illienko and Mykhailo Illienko. A graduate of the All-Union Institute of Cinematography (1960), he worked at the Yalta Artistic Film Studio and, from 1965, at the Kyiv Artistic Film Studio. His camera work in Serhii Paradzhanov's Tini zabutykh predkiv (Shadows of Forgotten Ancestors, 1964) earned him international recognition and an award at the 1965 international film festival in Mar del Plata, Argentina. His Proshchaite holuby (Goodbye, Pigeons, 1960), made in fulfillment of degree requirements, was approved for general distribution in the USSR.
Illienko made his debut as a film director with the stark black-and-white film Krynytsia dlia sprahlykh (A Well for the Thirsty, 1966), but the film was banned by Soviet censors who viewed the film as a condemnation of the destruction of the traditional Ukrainian village by the Holodomor and Second World War. His second film: his adaptation of Nikolai Gogol's stories Vechir na Ivana Kupala (The Eve of Ivan Kupalo, 1967) was accepted for competition at the Venice Internetional Film Festival, but the USSR Ministry of Culture did not release the film and soon afterwards banned it altogether. Then Illienko co-scripted (with Ivan Mykolaichuk) and directed Bilyi ptakh z chornoiu oznakoiu (White Bird with a Black Mark, 1971), which won a gold medal at the Moscow International Film Festival, and then scripted and directed such films as Vsuperech vs'omu (Contrary to Everything, 1972); Lisova pisnia—Mavka (The Forest Song: Mavka, 1980), an adaptation of Lesia Ukrainka's play; Lehenda pro kniahyniu Ol'hu (The Legend of Princess Olha, 1983), the first part of a planned trilogy on Kyivan Rus'; and Solomiani dzvony (Straw Bells, 1987).
During the period of glasnost and perestroika, Illienko produced an internationally acclaimed film Lebedyne ozero. Zona (Swan Lake. The Zone, 1990) that received two major awards (including the FIPRESCI International Federation of Film Critics Prize for Best Film) at the Cannes Film Festival. The film, based on the screenplay by Serhii Paradzhanov, was the first instance of an international film co-production in Soviet Ukraine (it was co-produced by Ukraine, Canada, USA, and Sweden) and was the first film to represent Ukraine (not the USSR) at an international film festival. Illienko's last feature film was the experimental film about Hetman Ivan Mazepa Molytva za het'mana Mazepu (Prayer for Hetman Mazepa, 2002).
Illienko's highly personal cinema was deeply rooted in Ukrainian history and folklore. His original cinematographic style used subjective camera and explored the diverse potentialities of color. His oeuvre sets Illienko apart from the majority of his contemporary Ukrainian filmmakers and makes him one of the most accomplished masters of Ukrainian cinema. Illienko also taught at the Kyiv Institute of Theater Arts and, based on his lectures, wrote a monograph Paradygma kino (The Paradigm of the Cinema, 1998). He was also a prolific painter and wrote a three-volume novel Dopovidna Apostolovi Petru. Avtobiohrafiia alter ego (A Report to Saint Peter: The Autobiography of the Alter Ego, 2008).
Marko Robert Stech
[This article was updated in 2013.]