Kasiian, Vasyl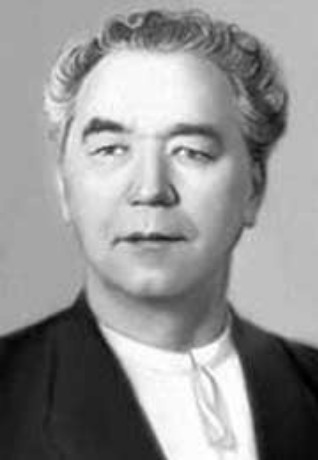 Kasiian, Vasyl [Касіян, Василь; Kasijan, Vasyl'], b 1 January 1896 in Mykulyntsi, Stanyslaviv county, Galicia, d 26 June 1976 in Kyiv. Graphic artist of the realist school; from 1947 full member of the USSR Academy of Arts and the Academy of Construction and Architecture of the Ukrainian SSR. A graduate of the Prague Academy of Arts (1926) and a student of Max Švabinský, he assumed Soviet citizenship and in 1927 immigrated to the Ukrainian SSR, where he taught at the Kyiv State Art Institute (1927–30 and 1944–76), the Ukrainian Printing Institute in Kharkiv (1930–7), and the Kharkiv Art Institute (1938–41). A prolific and versatile artist, he excelled in all the graphic art techniques—woodcut, copper engraving, linocut, and lithography—as well as pen drawing and watercolors.
During his Prague period Kasiian dealt with social themes, depicting the poverty and hard life of the lower classes in Europe. Coming to Ukraine, he created several series of propaganda woodcuts and copper engravings in the socialist-realist style about collective farms, the building of the Dnipro Hydroelectric Station, mining in the Donbas, and the building of the Kyiv Metro. He also devoted a series of engravings to Vladimir Lenin and to Joseph Stalin (almost 50 works). Following Nikita Khrushchev's condemnation of the personality cult, Kasiian destroyed whole portfolios of his engravings of Stalin.
The most valuable part of his rich, technically flawless legacy consists of the works on industrial themes, which document the economic transformation of Ukraine, and the illustrations to works by Taras Shevchenko, Lesia Ukrainka, Ivan Franko, Mykhailo Kotsiubynsky, Vasyl Stefanyk, and Olha Kobylianska. Socialist realism, which Kasiian defended in his articles, led him to adopt elements of naturalism and had a detrimental effect on his later work. He wrote many works on graphic art techniques, and collaborated with Yurii Turchenko on a study of T. Shevchenko's graphic works. He was the editor of Taras Shevchenko: Mystets'ka spadshchyna (Taras Shevchenko: The Artistic Legacy, 4 vols, 1961–4), which contains all of Shevchenko's known works, and a coeditor of the six-volume Istoriia ukraïns'koho mystetstva (History of Ukrainian Art, 1966–8). From 1927 Kasiian's numerous artistic works were displayed at one-man exhibitions, including six in Kyiv, three in Kharkiv, two in Odesa, and one each in Lviv, Moscow, Prague, and Bucharest. His works were included in most official Soviet exhibitions abroad, including the Venice Biennale.
BIBLIOGRAPHY
Portnov, H. Vasyl' Illich Kasiian (Kyiv 1962)
Kostiuk, S. Vasyl' Kasiian. Bibliohrafichnyi pokazhchyk (Lviv 1976)
Vladych, L. Vasyl' Kasiian (Kyiv 1978)
Sviatoslav Hordynsky
[This article originally appeared in the Encyclopedia of Ukraine, vol. 2 (1988).]