Khotkevych, Hnat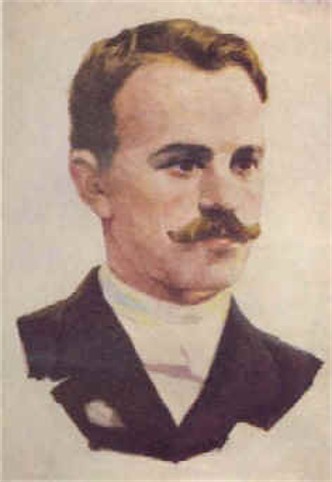 Khotkevych, Hnat [Хоткевич, Гнат; Xotkevyč], b 31 December 1877 in Kharkiv, d 8 October 1938. (Photo: Hnat Khotkevych.) Modernist writer, scholar, composer, theater director, and civic figure. After graduating from the Kharkiv Technological Institute in 1900, he worked as a railway engineer. In 1899 he arranged a performance by kobzars and lirnyks at the 11th Archeological Conference in Kharkiv. Politically persecuted for being one of the leaders of a railwaymen's strike in Liubotyn in 1905, he was forced to emigrate to Galicia in 1906, where he lived in Lviv and then (1906–12) in Kryvorivnia, Kosiv county. He toured Galicia and Bukovyna with concerts of Ukrainian folk songs accompanied by the bandura and in 1910 founded the Hutsul Theater in Krasnoilia, Kosiv county. Returning to Kharkiv in 1912, Khotkevych became involved in the cultural life there: he gave public lectures; founded a workers' theater, which in three years staged over 50 plays, mostly of Ukrainian classics; and in February 1913 became the editor of the literary journal Visnyk kul'tury i zhyttia. Again he came under political persecution and in 1915 was banished from Ukraine. Until the outbreak of the February Revolution of 1917 he lived in Voronezh. He was opposed to the Bolshevik occupation of Ukraine, but from 1920 on was an active participant in Soviet cultural life. From 1920 to 1928 he taught Ukrainian literature and Ukrainian language at the Derhachi Zootekhnikum. Later he taught bandura-playing at the Kharkiv Music and Drama Institute. Throughout his life he worked at perfecting the art of bandura-playing and wrote a manual, Pidruchnyk hry na banduri (A Manual on Playing the Bandura, 1909; repr 1930), on the subject. He also composed a number of songs, including 'Baida,' 'Buria na Chornomu mori' (A Storm on the Black Sea), 'Sofron,' 'Nechai,' and 'A v poli korchomka' (There's a Tavern in the Field). His musical activity played a significant role in the development of the bandura.
Khotkevych began writing in 1897; his first short story 'Hruzynka' (The Georgian Girl) appeared in the journal Zoria (Lviv). His rich literary legacy, much of it published in contemporary periodicals, consists of such works as the stories 'Bludnyi syn' (The Prodigal Son, 1898) and 'Rizdvianyi vechir' (Christmas Eve, 1899); the cycle 'Zhyttievi analohiï' (Life's Analogies, 1897–1901); the novel Berestechko; the collection of stories Hirs'ki akvareli (Mountain Watercolors, 1914); stories written in 1914–15 and published under the title Hutsul's'ki obrazy (Hutsul Pictures, 1931); and the novelette Aviron (1917). His greatest literary achievement is the romantic novelette about Hutsuls, Kaminna dusha (The Stone Soul, 1st edn, 1911). Khotkevych also wrote a number of plays, including Dovbush (1909) and Hutsul's'kyi rik (The Hutsul Year, 1910). Neproste (Non-simple, 1911) and other plays were written especially for the Hutsul Theater. His historical plays—O polku Ihorevim (Ihor's Campaign, 1926) and the tetralogy Bohdan Khmel'nyts'kyi (1929)—were highly acclaimed by contemporary critics. In the last drama of the tetralogy, Pereiaslav, the playwright condemned the Pereiaslav Treaty of 1654 as an instrument of Russia's subjugation of Ukraine.
Khotkevych's literary and artistic interests were wide and varied. He wrote many studies, including Hryhorii Savych Skovoroda (1920), Narodnyi i seredn'ovichnyi teatr u Halychyni (Folk and Medieval Theater in Galicia, 1924), Muzychni instrumenty ukraïns'koho narodu (The Musical Instruments of the Ukrainian People, 1930), and Teatr 1848 roku (The Theater of 1848, 1932), and a series of articles on Taras Shevchenko. In the Soviet period, he translated such world classics as the works of William Shakespeare, Molière, Johann Christoph Friedrich von Schiller, and Victor Hugo.
Although he was politically suspect and stood aloof from Soviet literary discussions, Khotkevych remained one of the most popular writers in Ukraine. This is evident from the publication of an eight-volume collection of his works in 1928–32.
Khotkevych's fortunes declined throughout the 1930s as he increasingly came under suspicion for 'nationalist' tendencies. As a result, his last novel, 'Dovbush,' was not published, and his tetralogy about Taras Shevchenko, which he began in 1928, was never completed. He approached various institutions and officials—even writing to Joseph Stalin—requesting a respite from his persecution. This was to no avail. In late February 1938 he was arrested and in short order found guilty of belonging to a an underground Ukrainian counter-revolutionary group (a charge to which he confessed). On 29 March 1938 a Ukrainian NKVD tribunal in Kharkiv sentenced him to be shot and his property confiscated. The execution was carried out on 8 October 1938.
Khotkevych was posthumously rehabilitated in 1956. His novel Dovbush was published in 1965, and a two-volume set of his works appeared in 1966. However, it was not until the 1990s that his life and legacy could be openly discussed.
BIBLIOGRAPHY
Bolabol'chenko, A.; Khotkevych, H. (eds). Slidom za pam'iattiu: Spohady v lystakh (Kyiv 1993)
——— (eds). Hnat Khotkevych: Spohady, statti, svitlyny (Kyiv 1994)
Bolabol'chenko, A. Hnat Khotkevych: Biohrafichni narysy (Kyiv 1996)
Suprun, N. Hnat Khotkevych: Muzykant: Muzychno-teoretychne doslidzhennia (Rivne 1997)
Cherems'kyi, P. Dyvosvit Hnata Khotkevycha: Aspekty tvorchoï spadshchyny (Kharkiv 1998)
Stefiuk, V. Kermanych hutsul's'koho teatru: Narys zhyttia i tvorchosti H. Khotkevycha; Spohady pro n'oho (Kosiv 2000)
Ivan Koshelivets
[This article was updated in 2001.]