Maniava Hermitage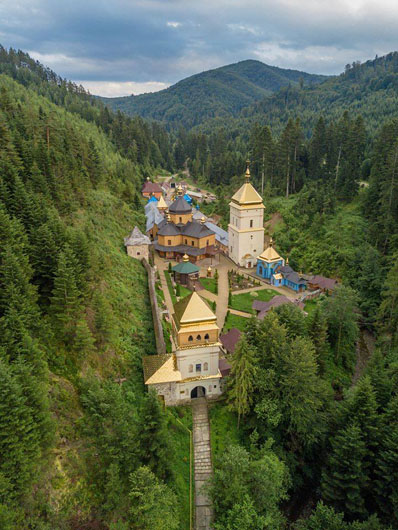 Maniava Hermitage (Манявський Скит; Maniavskyi Skyt). An Orthodox monastery near Maniava, now in Bohorodchany raion, Ivano-Frankivsk oblast. It was founded by Yov Kniahynytsky when he settled in an isolated wooded area in the Gorgany Mountains on the banks of a tributary of the Bystrytsia Solotvynska River. Although he planned to live in solitude, he soon began to attract other monks and believers, who built the first cells of the monastery in 1611 and then a wooden church in 1612. Later, additional cells were constructed, and with the patronage of O. Movilă, the daughter of a Moldavian magnate, the main church, of the Elevation of the Cross, was erected. In 1620 the Constantinople patriarch Timothy II granted the monastery stauropegion status, which enabled it to remain Orthodox despite the subsequent conversion of the entire region to the Uniate church.
The Maniava Hermitage soon came to house nearly 240 residents. It became a model of monastic life throughout Ukraine and maintained close relations with monasteries in Uhornyky, Kolomyia, Tovmach, and Suceava (Moldavia). The hermitage was also an important cultural center. Its library contained many rare manuscripts and books, and it was the site of one of the first professional schools of church music in Western Ukraine. Although it was fortified by a defensive wall and three towers (a gate tower, a bell tower, and a defensive tower), the monastery was destroyed by the Turks in 1676. It was rebuilt in 1681. In September 1785 the hermitage was closed by order of the Austrian government, and its monks dispersed to monasteries in Kyiv and Bukovyna. The monastery collapsed in ruins, and only the outer walls and the foundations of the main church and bell tower remained.
Throughout its 150-year existence the hermitage was renowned for the asceticism of its monks. Many laymen asked to be buried there, including Hetman Ivan Vyhovsky. Most of the monastery's important artifacts have not survived, but the iconostasis by Yov Kondzelevych, painted in 1698–1705, was taken to Bohorodchany after the monastery was closed, and then deposited in 1923 in the National Museum in Lviv. In 1785 the wooden church of the hermitage was transferred to Nadvirna, where it stood until it was destroyed by fire in 1914. In 1972–80 restorations were conducted on the site of the hermitage, and all three main towers, the defensive walls, and the wooden and stone cells were rebuilt, and the frescoes restored. In 1981 it was made into a branch of the Ivano-Frankivsk Regional Studies Museum.
The Maniava Hermitage has inspired many literary and artistic works (eg, by Antin Mohylnytsky, Ivan Franko, Yakiv Holovatsky, Osyp Makovei, Nataliia Kobrynska and Ivan Trush), and Ivan Vahylevych wrote a historical study of it in 1848.
BIBLIOGRAPHY
Tselevich, Iu. Istoriia Skitu Maniavs'koho (Lviv 1887)
Ivan Korovytsky, Arkadii Zhukovsky
[This article originally appeared in the Encyclopedia of Ukraine, vol. 3 (1993).]