Masol, Vitalii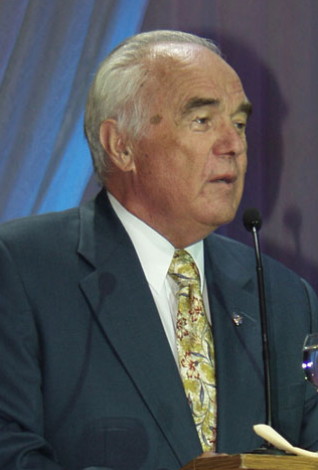 Masol, Vitalii [Масол, Віталій], b 14 November 1928 in Olyshivka, Chernihiv raion, Chernihiv oblast, d 21 September 2018 in Kyiv. Independent Ukraine's fourth prime minister; formerly a Soviet Ukrainian Communist Party and government official; head of the Commission on Housing Policy (from April 1999 to November 2001). He was educated at the Kyiv Polytechnical Institute, from which he graduated in 1951 as a mechanical engineer, and at the Central Institute for Technology and Machine-Building in Moscow, where he obtained his candidate's degree in 1972 on metal fatigue in ships' propellers made in the Kramatorsk factory. Beginning his employment in industry in 1951, he was by 1963 director of the giant New Kramatorsk Machine-Building Plant. He joined the Communist Party of the Soviet Union (CPSU) in 1956. In 1972 he was catapulted to first deputy head of the State Planning Committee of the Ukrainian SSR, bypassing the usual intermediate stage of oblast administrative and Party leadership; in 1979 he was promoted head of it and concurrently a deputy head of the Council of Ministers of the Ukrainian SSR. In 1987, at the beginning of Mikhail Gorbachev's perestroika, he was made chairman of the Council of Ministers by the then First Secretary, Volodymyr Shcherbytsky, winning out over Stanislav Hurenko.
Consistent with his background, Masol upheld the continued subsidization of agriculture and coal mining by the state. During this time, he also advanced up the Party hierarchy, in both Kyiv and Moscow, becoming a member of CC CPU in 1976, a candidate member of the Ukrainian Politburo in 1986, and a full Politburo member in 1988. Simultaneously, in line with his position in the Ukrainian government, he was appointed a candidate member of the CC CPSU in 1986, and a full member of that body in 1989. In March 1989 he was elected unopposed from a district in Donetsk oblast to the USSR Council of People's Deputies in Moscow. He had previously been a deputy to both the USSR Supreme Soviet and to the Supreme Soviet of the Ukrainian SSR. In March 1990 he won a seat in the Supreme Council of Ukraine from a Chernihiv oblast constituency, which he held to the end of that parliament in 1994. He was a member of the commission on planning and the budget, and of the 'For Social Justice' fraction. He was forced out as chair of the Council of Ministers on 23 October 1990, under pressure from student hunger strikers who demanded not only his resignation, but also new parliamentary elections based on multipartism, the nationalization of CPU property, provision for military service to be confined to Ukrainian territory, and rejection of Mikhail Gorbachev's Union treaty (see Revolution on Granite).
In April 1994 he won re-election in the second round to the Supreme Council of Ukraine from Chernihiv oblast, and again sat on the budget and planning committee. He joined the 'Social-Market Choice' fraction. On 16 June 1994, Masol was appointed prime minister of Ukraine by President Leonid Kravchuk in a move calculated to win over the left-wing vote in the presidential election. This did not work as intended, however, because in July the election was won by Leonid Kuchma. Masol's ideological conservatism subsequently hobbled Kuchma's economic reform program until 1 March 1995, when he was persuaded to resign and retire. He was replaced as prime minister by Yevhen Marchuk.
Nevertheless, he maintained his seat in parliament and became a member of the committee on the Chornobyl nuclear disaster. From July 1997 to November 2001, he was one of 29 senior politicians (along with Yevhen Marchuk, Valerii Pustovoitenko, Viktor Yushchenko, and Vitold Fokin) serving on the Higher Economic Council advisory to President Leonid Kuchma.
A diehard Communist to the very end, he remained antipathetic to the market economy and a champion of Soviet-style planning, blamed Mikhail Gorbachev for the collapse of the USSR, and took a dim view of Ukrainian presidents Viktor Yushchenko and Viktor Yanukovych. A minor scandal erupted when he was said in a media interview to have blamed the latter two explicitly for ordering the murders of prominent politicians Vadym Hetman and Yevhenii Shcherban. In 2013, newspapers showed him attending the unveiling of a memorial plaque to Volodymyr Shcherbytsky, evidently his former patron and likewise opponent of Gorbachev's perestroika.
Bohdan Harasymiw
[This article was written in 2019.]