Moloda Muza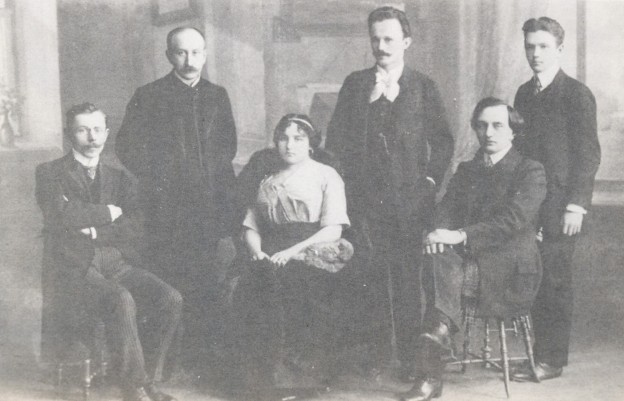 Moloda Muza (Young Muse). An informal modernist group of writers and artists in Western Ukraine, founded in 1906. The group's manifesto, as expressed by one of the founders (Ostap Lutsky), was 'freedom and liberty in content and form' and an emphasis on the more subtle and gentle experiences of the human soul. To publicize its works the group established a publishing house with the same name, which during its brief existence (1906–9) brought out more than 10 works by the members of the group as well as the extremely ambitious but short-lived magazine S'vit. The members consisted of the writers Bohdan Lepky, Vasyl Pachovsky, Petro Karmansky, Mykhailo Yatskiv, Stepan Charnetsky, Lutsky, Sydir Tverdokhlib, and Volodymyr Birchak, the painter Modest Sosenko, the sculptor Mykhailo Parashchuk, and the composer Stanyslav Liudkevych. Sympathetic to the group were the writer Vasyl Shchurat and the critic Mykola Yevshan.
Although as in all such loosely organized groups the style and quality of literary production is varied and uneven, there are some common traits which characterize the group as a whole: a predilection for the esthetic above the utilitarian in life and an affinity for the unease and pessimism of the Western European intelligentsia of the turn of the century. Some members of Moloda Muza were influenced by its Polish counterpart Młoda Polska. But though they were but a pale reflection of their Polish 'modernist' friends, to say nothing of the symbolists and decadents whose works they often translated, the members of Moloda Muza not only did not receive popular support (the magazine S'vit had to give up its international profile and turn to more mundane matters after only nine months of publication), they had to contend with attacks from such notables as Serhii Yefremov and Ivan Franko. Franko's criticism, despite his sensitivity to their talent, centered on the absence of proper and meaningful purpose in their creativity. At a time when so much still had to be done in the social, national, and political spheres, there was little room for the luxury of esthetics. For Franko literature had more important aims. Their sensitive brooding was labeled destructive pessimism, their attention to form, needless formalism, and their striking imagery, decadence.
Such a climate put an end to the group's fragile attempt to free literature from social purpose. Moloda Muza produced some interesting works (Mykhailo Yatskiv's expressionist miniatures, Vasyl Pachovsky's erotic lyrics, and Petro Karmansky's haunting and melancholy pieces) and had some influence on the writers of the 1920s (Dmytro Zahul, Volodymyr Kobyliansky, and even the early Pavlo Tychyna). But its elegant publications found little favor among the local intelligentsia. Moloda Muza marks only an interesting interlude in the development of Ukrainian literature in the 20th century since neither the interwar nationalist school of literary criticism nor the Soviet socialist-realist criticism could see any value in literary activity outside of social and political concerns.
BIBLIOGRAPHY
Rudyk, D. 'Molodomuztsi,' ZhR, 1925, no. 12
Stepniak, M. 'Poety Molodoï muzy,' ChSh, 1933, no. 1
Karmans'kyi, P. Ukraïns'ka Bohema (Lviv 1936)
Rudnyts'kyi, M. 'Shcho take "Moloda muza",' intro to Chorna Indiia 'Molodoï muzy' (Lviv 1937)
Romanenchuk, B. 'Modernistic Trends in Ukrainian Literature: 1900–1923,' PH D diss, University of Pennsylvania, 1958
Rubchak, B. 'Probnyi let,' in Ostap Luts'kyi—Molodomuzets', ed Yu. Luts'kyi (New York 1968)
Danylo Husar Struk
[This article originally appeared in the Encyclopedia of Ukraine, vol. 3 (1993).]