Liudkevych, Stanyslav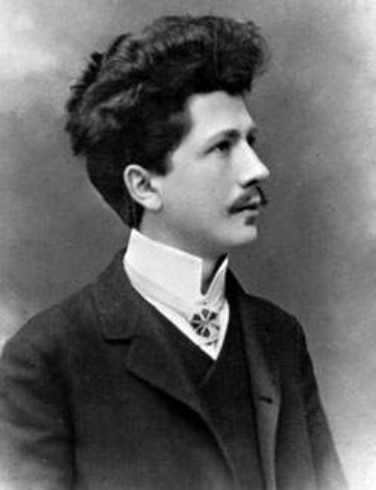 Liudkevych, Stanyslav [Людкевич, Станислав; Ljudkevyč], b 24 January 1879 in Jarosław, d 12 September 1979 in Lviv. Composer, musicologist, folklorist, and pedagogue; member of the Shevchenko Scientific Society since 1935. He was taught piano as a child by his mother, and continued to study in Lviv under M. Soltys and in Vienna under O. Zemlinsky and H. Gredener (composition and instrumentation) and G. Adler (musicology), where he obtained a PH D in 1907 with a dissertation on program music. He taught in gymnasiums in the Academic Gymnasium of Lviv and Peremyshl State Gymnasium in 1901–7; in 1908 he was appointed director of the Lysenko Higher Institute of Music, and in 1919 he became an inspector of its branches and a lecturer in music theory. From 1939 he taught at the Lviv Conservatory and then held the Chair of Composition until his retirement in 1972.
Liudkevych began composing choral works while still a gymnasium student. His symphonic cantata The Caucasus (1902–13), inspired by Taras Shevchenko's poem of the same name, is considered one of the most eminent works in Ukrainian music of that time. Other choral compositions include The Eternal Revolutionary (1898), The Reaper (1901), Khor pidzemnykh kovaliv (The Chorus of Underground Blacksmiths, 1905), Oi, vyhostriu tovarysha (Oh, I'll Hone My Knife, 1917), and The Testament (1934). His symphonic compositions include Strilets'ka rapsodiia (The [Sich] Riflemen's Rhapsody, 1920), Kameniari (The Stonecutters, 1926, 2nd edn 1956), and Vesnianky (Spring Songs, 1935). He also wrote a piano trio, minor works for the piano and the violin, solo art songs, the unfinished opera Bar Kokhba (1926), and arrangements of folk songs and songs of the Ukrainian Sich Riflemen. In his later period, he composed orchestral works, including Symfonietta (1943), Koliadnytsia (Christmas Caroller, 1944), Iunats'ke rondo (The Rondo of Youth, 1946), the symphonic poem The Dnieper (1948), Prykarpats'ka symfoniia (The Subcarpathian Symphony, 1952), concertos for piano and for violin, and the opera Dovbush.
Liudkevych edited works by earlier composers, including Mykhailo Verbytsky, Ostap Nyzhankivsky, Viktor Matiuk, and Sydir Vorobkevych. He composed and orchestrated the additional act in Semen Hulak-Artemovsky's opera Zaporozhian Cossack beyond the Danube and orchestrated Mykola Lysenko's operas Nocturne and Utoplena (The Drowned Maiden). Liudkevych is the author of various theoretical works on Ukrainian music, including Zahalni osnovy muzyky (The Basic Principles of Music, 1921) and Materiialy do nauky sol'fedzho i khorovoho spivu (Materials for the Study of Solfège and Choral Singing, 1930). With Osyp Rozdolsky he compiled Halyts'ko-rus'ki melodiï (Galician-Ruthenian Melodies, 2 vols of Etnohrafichnyi zbirnyk, 1906–7). He wrote numerous commentaries and reviews, and edited articles on music in the journals Artystychnyi visnyk (1905), Muzychnyi lystok (1925), and Muzychnyi vistnyk (1929–34).
A major anthology of Liudkevych's writings was published in Kyiv in 1973 but immediately withdrawn from circulation. In 1976 a reprint edition of this work was published in the United States, and a considerably shortened anthology appeared in the Ukrainian SSR. Liudkevych's complete art songs were published in Canada in 2016 by the Ukrainian Art Song Project.
Liudkevych played an important part in developing musical culture in Ukraine through his activity in the Boian society and in the Lysenko Higher Institute of Music. His compositions are characterized by highly professional skill and a tendency toward monumentalism and drama.
BIBLIOGRAPHY
Zahaikevych, M. S.P. Liudkevych: Narys pro zhyttia i tvorchist' (Kyiv 1957)
Shtunder, Z. (ed). S. Liudkevych: Doslidzhennia, statti, retsenziï (Kyiv 1973)
Pavlyshyn, S. Stanislav Liudkevych (Kyiv 1974)
Zahaikevych, M. (ed). Tvorchist' S. Liudkevycha: Zbirnyk stattei (Kyiv 1979)
Vytvyts'kyi, V. 'Stanyslav Liudkevych zblyz'ka,' Suchasnist', 1979, no. 6
Teren-Ius'kiv, T. Natsional'no-derzhavna motyvatsiia tvorchosty S. Liudkevycha (London 1984)
Iakubiak, Ia. Mykola Lysenko i Stanyslav Liudkevych (Lviv 2003)
Antin Rudnytsky, Roman Savytsky
[This article was updated in 2018.]