Musicology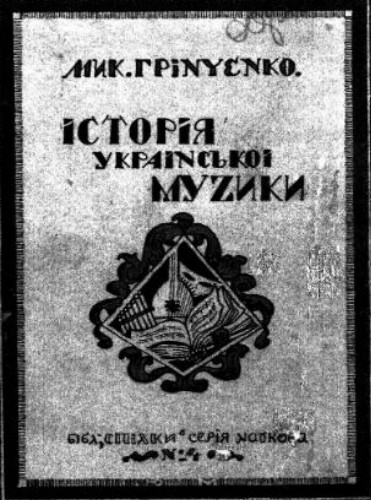 Musicology. Most of the early writings on Ukrainian musicological themes have dealt with the description or compilation of Ukrainian folk songs and folk music. Later writings dealt with the history of Ukrainian musical development. Many primary texts and monographs have been published on these subjects, and several overview histories were undertaken.
The study of musical folklore developed intensively during the 19th century. An important starting point was the publication of a large collection of Ukrainian folk song texts edited by Mykhailo Maksymovych (1827), who, in a detailed introduction, emphasized the differences between Russian and Ukrainian folk songs. Further ethnomusicological studies were carried out in the second half of the 19th century by Petro Sokalsky, Mykola Lysenko, and Oleksander Rubets, and in the early 20th century by Filaret Kolessa, Stanyslav Liudkevych, and Volodymyr Shukhevych. Their work was later continued by Klyment Kvitka, Dmytro Revutsky, Mykola Hrinchenko, Zinovii Lysko, and others. The musicological articles and reports resulting from this work commonly appeared in periodicals such as Kievskaia starina, Literaturno-naukovyi vistnyk, Artystychnyi vistnyk, and Muzychnyi kalendar-al'manakh.
The interwar period saw some significant undertakings in Ukrainian musicology. In 1922 Mykola Hrinchenko published the first significant history of Ukrainian musical development to the 20th century. The Leontovych Music Society enlivened the musicological field by publishing the journal Muzyka from 1923. In Western Ukraine a musicological commission headed by Stanyslav Liudkevych was formed in the 1930s, the journal Ukraïns'ka muzyka (1937–9) provided some valuable articles on musicological themes, and Borys Kudryk published a survey of Ukrainian church music (1937). In Soviet Ukraine musicological work was severely curtailed by the Stalinist repressions of the 1930s. Some research was still undertaken in the field, notably by Andrii Olkhovsky at the Kyiv Conservatory. But the monograph resulting from his work, Narys istoriï ukraïns'koï muzyky (An Outline of the History of Ukrainian Music), was confiscated and destroyed shortly after its publication in 1941.
After 1945 the conservatories and the Institute of Fine Arts, Folklore, and Ethnography of the Academy of Sciences of the Ukrainian SSR were responsible for work in Ukrainian musicology. Some notable research was undertaken by Ihor Belza, Mykola Hordiichuk, Valeriian Dovzhenko, Onysia Shreier-Tkachenko, Lidiia Arkhimovych, M. Zahaikevych, and others. Since 1964 the annual Ukraïns'ke muzykoznavstvo has carried articles on the theory and history of music as well as on performance and folklore. The bimonthly periodical Muzyka, printed in Kyiv since 1970, has also published musicological articles. Numerous brochures and monographs have been written on Ukrainian music and composers, such as Mykola Lysenko (by Arkhimovych and Hordiichuk), Semen Hulak-Artemovsky (L. Kaufman), Kyrylo Stetsenko (L. Parkhomenko), Mykola Leontovych (Hordiichuk), Stanyslav Liudkevych (M. Zahaikevych), Filaret Kolessa (Sofiia Hrytsa), Borys Liatoshynsky (N. Zaporozhets), Andrii Shtoharenko (M. Borovyk), and Heorhii Maiboroda (Hordiichuk). Monographs on great Ukrainian performers, such as Solomiia Krushelnytska, Oleksander Myshuha, Modest Mentsinsky, and Borys Hmyria, have also been published.
Some notable works on Ukrainian musicology have appeared in the West. They include Oleksander Koshyts's Spohady (Memoirs, 1947–8) and Z pisneiu cherez svit (Around the World with Song, 3 vols, 1952–74). Monographs have been published about composers such as Dmytro Bortniansky, Maksym Berezovsky, Fedir Yakymenko, Artem Vedel, Koshyts, and Mykhailo Haivoronsky. Other noteworthy publications include Pavlo Matsenko's Narysy do istoriï ukraïns'koï tserkovnoï muzyky (Studies in the History of Ukrainian Church Music, 1968) and Konspekt istoriï ukraïns'koï tserkovnoï muzyky (A Synopsis of the History of Ukrainian Church Music, 1973); Antin Rudnytsky's Ukraïns'ka muzyka: Istorychno-krytychnyi ohliad (Ukrainian Music: A Historical and Critical Survey, 1963) and Pro muzyku i muzyk (On Music and Musicians, 1980); and Myroslaw Antonowycz's Chants from Ukrainian Heirmologia (1974). Some musicological essays are found in Zbirnyk na poshanu Hryhoriia Kytastoho... (Anthology in Honor of Hryhorii Kytasty..., 1980). In the field of musical folklore, Ukraïns'ki narodni melodiï (Ukrainian Folk Melodies), a projected 10-volume collection edited by Zinovii Lysko, is of particular significance.
Starting in the 1950s there have been some attempts to write broader histories of Ukrainian music. Notable efforts include Valeriian Dovzhenko's two-volume Narysy z istoriï ukraïns'koï radians'koï muzyky (Essays on the History of Soviet Ukrainian Music, 1957, 1967), the collectively authored Narysy z istoriï ukraïns'koï muzyky (Essays on the History of Ukrainian Music, 1964), the collectively authored Istoriia ukraïns'koï dozhovtnevoï muzyky (The History of Ukrainian Prerevolutionary Music, 1969), and Onysia Shreier-Tkachenko's Istoriia ukraïns'koï muzyky (History of Ukrainian Music, 1980). While adding to the knowledge of Ukrainian musical development, these works are hampered by the shortcomings of Soviet Ukrainian scholarship, particularly in overstating Russian influences on Ukrainian culture (without acknowledging reciprocal Ukrainian influences on Russian cultural development) and in expounding upon the benevolence and brilliance of the Soviet system and state. In addition, these works tend to be more narrative than analytical in style. Such shortcomings are also evident in the first volumes of the six-volume Istoriia ukraïns'koï muzyky published by Institute of Fine Arts, Folklore, and Ethnography of the Academy of Sciences of the Ukrainian SSR under the editorship of Mykola Hordiichuk beginning in 1989.
BIBLIOGRAPHY
Ol'khovs'kyi, Andrii. Music under the Soviets: The Agony of An Art (New York 1955)
Hrinchenko, Mykola. Vybrane (Kyiv 1959)
Liudkevych, Stanyslav. Doslidzhennia, statti, retsenziï (Kyiv 1973)
Hordiichuk, Mykola. Na muzychnykh dorohakh (Kyiv 1973)
Wasyl Wytwycky
[This article originally appeared in the Encyclopedia of Ukraine, vol. 3 (1993).]