Liatoshynsky, Borys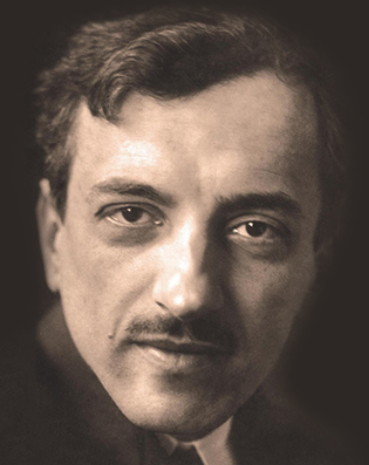 Liatoshynsky, Borys [Лятошинський, Борис; Ljatošyns'kyj], b 3 January 1895 in Zhytomyr, d 15 April 1968 in Kyiv. Composer and teacher. He graduated in law from Kyiv University in 1918, and then in music (studying under Reinhold Glière) from the Kyiv Conservatory in 1919. He lectured at the conservatory from 1920 and was appointed professor of composition there in 1935. He also held a professorship at the Moscow Conservatory in 1935–8 and 1941–4. In the 1920s he was the president of the Association of Contemporary Music and in 1939–41 he headed the Union of Composers of Ukraine.
Liatoshynsky is one of the initiators and main representatives of the modern school in Ukrainian music, using expressionistic style and atonal technique. His mastery of composition and instrumentation is shown throughout his repertoire. He began his work in the style of Aleksandr Scriabin, but later came under the influence of the French impressionists, and finally under west European expressionism. His contribution to Ukrainian music lies in a skillful blending of Ukrainian themes with contemporary European style. In spite of a harsh criticism of his work by the Party critics and the official ban on such compositions as his Symphony No. 2, Liatoshynsky did not compromise and never adhered to a style of socialist realism. Together with Lev Revutsky, he exerted a profound influence on Ukrainian composers of the younger generation. Among his students were such prominent composers as Valentyn Sylvestrov, Leonid Hrabovsky, and other members of the 'Kyiv avant-garde' of the 1960s, as well as Lesia Dychko, Yevhen Stankovych, Ivan Karabyts, and Ihor Shamo.
Liatoshynsky's main works include the operas Zolotyi obruch (The Golden Ring, 1929, based on the Ivan Franko novelette Zakhar Berkut) and Shchors (1937–8), five symphonies, an Overture on Four Ukrainian Folk Themes (1926), the suites Taras Shevchenko (1952) and Romeo and Juliet (1955), a symphonic poem Grazhyna (1955), the Slavic concerto for piano and orchestra (1953), and the completion and orchestration of Reinhold Glière's Concerto for Violin and Orchestra (1956). He also composed the cantatas, for chorus and orchestra, Testament and Urochysta (The Solemn One) in 1939; a piano quintet; five string quartets; two piano trios; and many other works for the piano (two sonatas, ballads, a cycle Reflections, and preludes) and the violin. He wrote nearly 50 solo art songs to poems by Taras Shevchenko, Ivan Franko, Maksym Rylsky, Volodymyr Sosiura, Heinrich Heine, Aleksandr Pushkin, and others; music for the films Karmeliuk (1932), Ivan (1932, with Yulii Meitus), Taras Shevchenko (1950), Ivan Franko (1956, with Mykola Kolessa), Hryhoryi Skovoroda (1959), and others; and arrangements of Ukrainian folk songs. Liatoshynsky also edited and arranged the score for the comic opera Eneïda (1927) and for the new edition of Mykola Lysenko's opera Taras Bulba (1936–7). His extensive correspondence with R. Glière (edited by Marianna Kopytsia) was published in 2002. Notable recordings of his music include the recordings of his five symphonies by the National Symphony Orchestra of Ukraine under Theodore Kuchar (in 1994) and Volodymyr Sirenko (in 2011–2).
BIBLIOGRAPHY
Belza, I. B.M. Liatoshyns'kyi (Kyiv 1947)
Zaporozhets, N. B.N. Liatoshinskii (Moscow 1960)
Samokhvalov, V. Borys Liatoshyns'kyi (Kyiv 1974)
Wasyl Wytwycky
[This article was updated in 2012.]