National Symphony Orchestra of Ukraine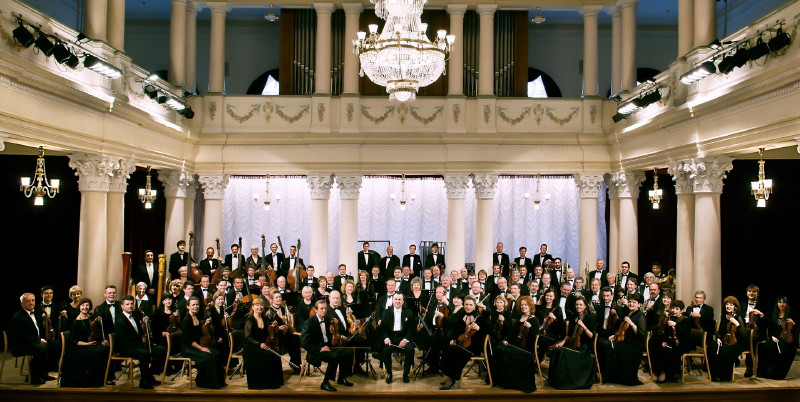 National Symphony Orchestra of Ukraine (Національний Симфонічний Оркестр України; Natsionalnyi Symfonichnyi Orkestr Ukrainy or НСОУ; NSOU). A symphony orchestra founded in Kyiv on 28 November 1918 by the Council of National Ministers of the Ukrainian National Republic as the State Symphony Orchestra named in honor of Mykola Lysenko. Its first director was Oleksander Horily. The orchestra's first concert in December 1918 featured Lysenko's music. Under Soviet rule the orchestra was renamed Republican Symphony Orchestra, but it was dissolved in 1923. The orchestra was revived in 1929 as a chamber orchestra, under the direction of M. Kanerstein, that performed for Ukrainian Radio Committee broadcasts. In 1937 it was expanded into a full symphony orchestra. Natan Rakhlin was its chief conductor from 1938 to 1963 (at times together with K. Simeonov). Its later chief conductors have included Stepan Turchak (1963–7), Volodymyr Kozhukhar (1967–77), Fedir Hlushchenko (1977–88), Ihor Blazhkov (1988–93), Theodore Kuchar (1994–8), and Volodymyr Sirenko (since 1999). In 1994 the orchestra was granted a national status and assumed its present name.
The National Symphony Orchestra of Ukraine has an extensive repertoire including world classics, 20th-century Ukrainian symphonic music, works by early Ukrainian composers, and contemporary music by Ukrainian and international composers. It has premiered important works by Ukrainian composers and frequently recorded for the Melodiia label (during Soviet times) and for many international labels after the 1991 Ukraine's Declaration of Independence. In 1994, the Australian Broadcasting Company rated NSOU's recording of Borys Liatoshynsky's Symphonies No. 2 and No. 3 as 'The Best Recording of the Year.' The CD of Valentyn Sylvestrov's Requiem for Larysa was nominated for a Grammy Award in 2005, while the CD of the violin concertos by Ernest Bloch and Benjamin Lees was nominated for a Grammy Award in 2009.
Marko Robert Stech
[This article was updated in 2018.]