Pushkin, Aleksandr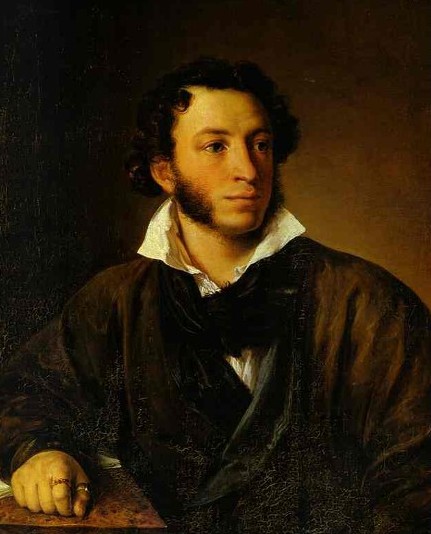 Pushkin, Aleksandr [Пушкин, Александр; Puškin], b 6 June 1799 in Moscow, d 10 November 1837 in Saint Petersburg. (Portrait: Aleksandr Pushkin.) Russian poet, playwright, and prose writer. Pushkin maintained close relations with the Ukrainians Mykola Markevych, Mykhailo Maksymovych, Dmytro Bantysh-Kamensky, and Orest Somov and helped Nikolai Gogol to establish himself in Russian literature. He maintained an interest in Ukrainian folklore, and his book collection included Opyt sobraniia drevnikh malorossiiskikh pesnei (An Attempted Collection of Old Little Russian Songs, 1819) by Nikolai Tsertelev, Malorossiiskie pesni (Little Russian Songs, 1827) and Ukrainskie narodnye pesni (Ukrainian Folk Songs, 1834) by M. Maksymovych, and Zaporozhskaia starina (Zaporizhia Antiquities, 1833) by Izmail Sreznevsky. Nonetheless, Ukrainian folk imagery was virtually absent from his writing. His stay in Ukraine during his exile from Russia in 1820–4 (Katerynoslav, Odesa, Kamianky, near Bila Tserkva, and, for a visit, Kyiv) did little to acquaint Pushkin with the Ukrainian national movement. Pushkin attempted to influence Kondratii Ryleev to rework his poem 'Voinarovskii' to reflect the Russian nationalist spirit. He wrote his collection of notes 'Istoriia Petra' (History of Peter) in a similar vein, including a subjective Russian interpretation of the Swedish-Moscovite-Ukrainian war of 1708–9 which culminated with the Battle of Poltava of 1709.
Pushkin wrote the poem 'Poltava,' which was highly praised by Tsar Nicholas I. Being under investigation at the time, he had followed the tsar's suggestions and thus demonstrated his loyalty to the official ideology. The purpose of 'Poltava' was to prove the 'historical correctness' of the destruction of Ukrainian statehood and the building of the Russian Empire. Peter I is extolled as in an ode where was Hetman Ivan Mazepa is portrayed melodramatically and described as 'sly,' 'cruel,' 'cunning,' 'cold,' 'destructive,' 'wily,' and 'a snake.' Panteleimon Kulish, who was influenced by Pushkin's imperialistic Great Russian ideology as much as by his poetic style, stressed Pushkin's importance for Ukrainian literature. Taras Shevchenko, however, in his poem 'Son' (The Dream) passionately contradicted Pushkin's apotheosis of Saint Petersburg in 'Mednyi vsadnik' (The Bronze Horseman).
The works of Pushkin were first translated into Ukrainian in 1829 by Levko Borovykovsky. The best prerevolutionary translations are by Borovykovsky, Mykhailo Starytsky, Ivan Franko, and Mykola Vorony. Of the postrevolutionary translators the most noteworthy are Pavlo Fylypovych, Mykola Zerov, Maksym Rylsky, Mykola Bazhan, Mykola Tereshchenko, Borys Ten, and Nataliia Zabila.
Yurii Blokhyn
[This article originally appeared in the Encyclopedia of Ukraine, vol. 4 (1993).]