Potii, Ipatii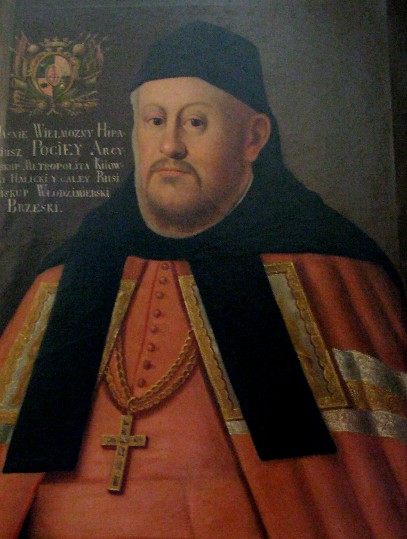 Potii, Ipatii [Потій, Іпатій; Potij, Ipatij] (secular name: Adam), b 12 April 1541 in Rozhanka, Podlachia region, d 1613. Churchman and Uniate metropolitan of Kyiv. The son of a nobleman, he was raised at the Polish royal court, and attended a Calvinist school run by the Lithuanian chancellor M. K. Radziwiłł. After attending Cracow University he entered the service of King Sigismund II August. He then served in Brest as a land judge, tax collector, and castellan and senator.
Potii was continually involved in religious affairs. Having adopted Calvinism under the influence of Radziwiłł, he reconverted to Orthodoxy in 1574. At the initiative of Prince Kostiantyn Vasyl Ostrozky he was made bishop of Volodymyr-Volynskyi and Brest in 1593. As bishop he began formal negotiations with Roman Catholic representatives, and in 1595 he was sent to Rome, with Kyrylo Terletsky, as a representative of the church in Ukraine, to set forth its confession of faith before Pope Clement VIII. They returned to lead the sobor that culminated in the Church Union of Berestia. After the proclamation of the union Potii was one of its leading supporters, both in defending it against Orthodox opposition and in seeking equal rights with Roman Catholics in the Polish-Lithuanian Commonwealth. After the death of Metropolitan Mykhailo Rahoza in 1599, Potii became the second Uniate metropolitan of Kyiv and Halych (1600–13) (see Halych metropoly, Kyiv metropoly).
Potii was a noted polemicist and wrote in Ukrainian, Polish, and Latin. Several anonymous works have been attributed to him, including Uniia, al'bo vyklad predneishykh artykulov ... (The Union, or an Exposition of the Articles ..., 1595) on the terms of the Church Union of Berestia, Antirysis (Anti-Discourse, 1599; Polish trans 1600), Oborona ś. Synodu Florentskiego ... (A Defense of the Council of Florence ..., 1603), and Harmoniia, al'bo sohlasie very ... (Harmony, or the Agreement of Faiths ..., 1608). He also founded a theological seminary in Vilnius and a Greek Catholic school in Brest.
BIBLIOGRAPHY
Chubatyi, M. Mytropolyt Ipatii Potii, apostol tserkovnoï iednosty: v 300-litnii iuvilei ioho smerty. (Lviv 1914)
Savyts'kyi, I. Ipatii Potii, ep. Volodymyrs'kyi i mytr. Kyïvs'kyi: Iuvileina knyha v 300-litni rokovyny m. I. Potiia. (Lviv 1914)
Wasyl Lencyk, Irynei Nazarko
[This article originally appeared in the Encyclopedia of Ukraine, vol. 4 (1993).]