Quebec and the Atlantic provinces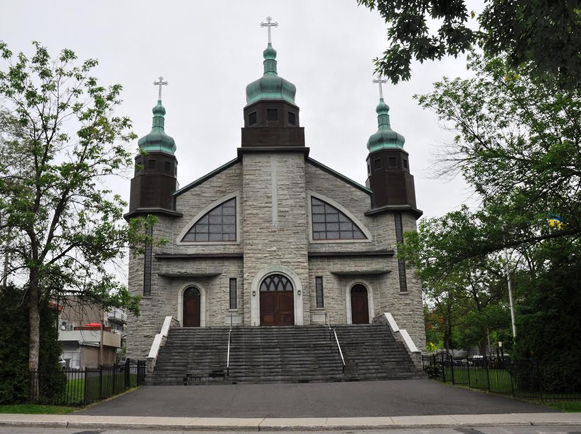 Quebec and the Atlantic provinces. Central Canadian province, which is Canada's largest (1,542,056 sq km; 2001 pop. 7,410,504), and four eastern Maritime provinces, including New Brunswick (72,908 sq km; 2001 pop. 757,077), Newfoundland and Labrador (405,212 sq km; 2001 pop.533,761), Nova Scotia (55,284 sq km; 2001 pop. 942,691), and Prince Edward Island (5,660 sq km; 2001 pop. 138,514). In 2001, 24,030 people claimed a Ukrainian background in Quebec along with 9,175 people in the Atlantic provinces. Of the former, 9,165 had a 'single' Ukrainian-only origin, while 14,860 claimed a 'multiple' (Ukrainian and other) origin; of the latter, 1,650 were single origin and 7,515 multiple. In Quebec, 5,125 people claimed a Ukrainian mother tongue, while in the Atlantic provinces 465 did the same. The largest urban Ukrainian centres in the region include Montreal (20,050; 8,035 single origin/12,010 multiple) and Halifax (3,580; 675/2,905)
The vast majority of early Ukrainian immigrants to Canada arrived in these eastern reaches at the ports of Halifax or Quebec City before proceeding further west by train. A small number stayed behind upon arrival in Halifax and pursued employment opportunities in and around Sydney, on Cape Breton Island, where a Ukrainian community had been developing since at least 1901. A decade later (1911) the majority of Nova Scotia's 300 Ukrainians lived there. In 1916, the Sydney region experienced an influx of several hundred Ukrainians released from internment camps in order to help rectify a labor shortage resulting from wartime military recruitment. Montreal, Canada's most populous city and leading economic centre until the mid-20th century, attracted many immigrant Ukrainians looking for work, and before the First World War the city's Ukrainian population could reach up to 7,000 during the winter months. There was no single major Ukrainian locale in the city, rather concentrations in its Point St. Charles, Central Slum, Frontenac, and Lachines areas. Montreal remained the main settlement centre for interwar Ukrainian immigrants who moved to Quebec. According to the 1931 Canadian census, 3,510 of the province's 4,340 Ukrainians lived in Montreal (the numbers were probably higher). By that time Ukrainian communities had also been established in the northwestern Quebec mining towns of Val d'Or and Rouyn-Noranda. The Ukrainian colony of Sheptytsky was set up in 1925 by Fr. Josaphat Jean, also in Abitibi region. However, the attempt was largely unsuccessful and by the early 1930s relatively few settlers remained there. During the Second World War numerous Ukrainians in the Canadian armed forces passed through Nova Scotia's port facilities. In the decade ending in 1951 approximately 4,000 Ukrainians settled in Montreal. The majority came with the post-Second World War immigration, as few of the Ukrainians moving out of the Prairie provinces tended to end up in Quebec or the Atlantic provinces (they more commonly went to British Columbia or Ontario). Several thousand more Ukrainians from the so-called third wave of immigration arrived in Montreal in the early 1950s. Since 1991 Quebec has received a small but vital immigration from Ukraine. The Ukrainian population of Quebec and the Atlantic provinces has always constituted a relatively minor portion of the Canadian total (approximately 4.0 percent in 1961 and 1971, today just over 3.0 percent).
Ukrainian organizational life in the Maritimes began in 1926 with the establishment of a Prosvita society in Sydney. In the 1930s the Ukrainian Labour-Farmer Temple Association (ULFTA) established two branches in the Sydney region. A Ukrainian-Canadian Association was established in the Halifax-Dartmouth area in 1976. In Quebec the major organizational centre was Montreal, where a Ukrainian immigrant- and self-aid society was established by 1903. It was followed soon thereafter by several Prosvita societies. In the interwar era branches of the major Ukrainian Canadian organizations, notably the ULFTA, the Ukrainian National Federation (UNF), the United Hetman Organization, and the Ukrainian Self-Reliance League, were set up there. It was common in Montreal for an organization to have separate branches in different parts of the city. Branches of the UNF were also established in Rouyn-Noranda and Val d'Or, where its main rival was a ULFTA brach. After the Second World War the new arrivals in Montreal established approximately 30 new organizations. In 1997 the Zustrich society was established as a contemporary immigrant aid and social group.
A Ukrainian Catholic parish was established in Sydney in 1912 and remains active to this day (with its parish priest occasionally serving in Halifax). A Ukrainian Orthodox church parish was also active there from the mid-1930s to the early 1950s. The Ukrainian Catholic church in Quebec is centered in Montreal, where it has 6 parishes. Several northern communities are served by a priest located in Val d'Or. As well there are chapels in the province's rural Ukrainian recreation centers. The Quebec and Nova Scotia churches are administered by the Eparchy of Toronto and Eastern Canada. There are 3 Ukrainian Orthodox parishes in Montreal, but none in other parts of the province. They are administered by the Eastern Diocese of the Ukrainian Orthodox Church of Canada.
The mainstay of Ukrainian-language education in Quebec and the Atlantic provinces has been Saturday schools. From the teens until the mid-1920s there were two schools in Montreal's Catholic system that provided instruction in French and Ukrainian. In 1965, Ukrainian was introduced as a language of study (where numbers permitted) in the province's high schools. In 1978 the Parti Québécois government introduced legislation permitting (bilingual) instruction in languages such as Ukrainian (alongside French), but the community did not pursue this option. In general the province's Ukrainian Catholic and Ukrainian Orthodox communities maintain a notably Anglophone orientation in respect to education. Ukrainian-language or subject courses have not been taught in Quebec or Atlantic universities with the exception of a quickly discontinued trial Ukrainian history course at Montreal's Concordia University in 1978–79. Nevertheless, a number of notable Ukrainian academics, including Marko Antonovych, Jaroslav Rudnyckyj, Roman Serbyn, Radoslav Zhuk, and Luba Zuk have been associated with Quebec.
Quebec's creative talents have included the artist Ruslan Logush, composers George Fiala and Bohdan Veselovsky, pianists Liubka Kolessa, Ireneus Zhuk, and Luba Zuk, filmmaker Yuri Luhovy, and pop singer Luba Kowalchuk.
Andrij Makuch
[This article was updated in 2005.]