Shcherbyna, Volodymyr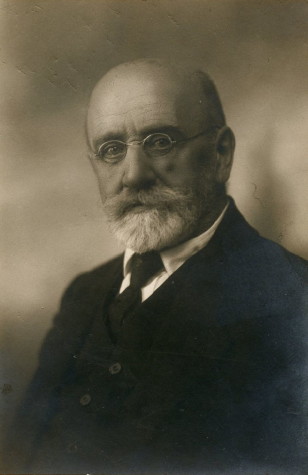 Shcherbyna, Volodymyr [Щербина, Володимир; Ščerbyna], b 28 May 1850 in Kyiv, d 1936 in Kyiv. Historian, pedagogue, and community activist; corresponding member of the All-Ukrainian Academy of Sciences (VUAN). He studied at Kyiv University (1868–73) under Volodymyr Antonovych and Mykhailo Drahomanov and wrote his dissertation on Hetman Kyrylo Rozumovsky. He studied pedagogy in Saint Petersburg (1876) and then taught history and literature in gymnasiums there and in Kyiv (1879–1920). He was a member of the Kyiv Historical Archives Group (headed by Antonovych in the 1880s and 1890s), the Kyiv Archeographic Commission, and the Historical Society of Nestor the Chronicler. He published his studies in Arkhiv Iugo-Zapadnoi Rossii, Chteniia v Istoricheskom obshchestve Nestora-letopistsa, and Kievskaia starina (mostly in 1891–9), as well as in Zapysky Naukovoho tovarystva im. Shevchenka (under the cryptonym 'V.I.'), Ukraïna (1914–30), and Zapysky Istorychno-filolohichnoho viddilu VUAN. In 1901 he traveled through Right-Bank Ukraine to collect ancient documents and art.
Together with Yakiv Shulhyn, Volodymyr Naumenko, and Orest Levytsky Shcherbyna was active in many community and cultural organizations in Kyiv. From 1920 he devoted himself to scholarly work in the National Library of Ukraine and the Archival Administration and the Archeographic Commission of the All-Ukrainian Academy of Sciences, directed (from 1925) the VUAN Commission on the History of Kyiv and Right-Bank Ukraine, and was a member of the VUAN Chair of Ukrainian History (later the Institute of History of the Academy of Sciences of the Ukrainian SSR). He was an acclaimed specialist on the history of Kyiv (particularly the 17th and 18th centuries), and he also wrote about the haidamaka uprisings and the Cossack period and compiled memoirs of Volodymyr Antonovych (1909) and Shulhyn (1912).
In 1926, on the 50th anniversary of the beginning of Shcherbyna's scholarly activity, the All-Ukrainian Academy of Sciences published Novi studiï z istoriï Kyieva V.I. Shcherbyny (New Studies of the History of Kyiv by V.I. Shcherbyna); the publication also contained biographical and bibliographical information.
Arkadii Zhukovsky
[This article originally appeared in the Encyclopedia of Ukraine, vol. 5 (1993).]