Ukraïna (1914–30)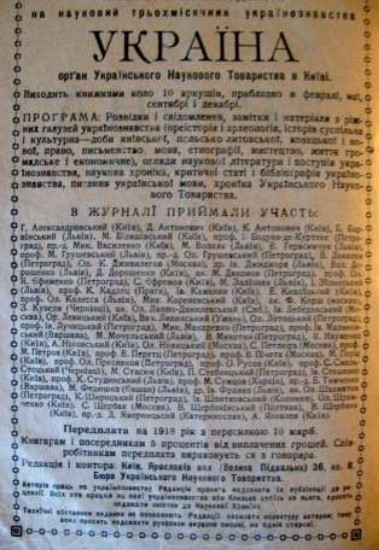 Ukraïna (1914–30) (Ukraine). An academic journal of Ukrainian studies that was published in Kyiv from 1914 to 1930 (except in 1915–16 and 1919–23). The editor was Mykhailo Hrushevsky. From 1914 Ukraïna was the official publication of the Ukrainian Scientific Society in Kyiv, and from 1924 it was the official publication of the historical section of the All-Ukrainian Academy of Sciences (VUAN). Altogether 43 issues were published (10 in 1914–18 and 33 in 1924–30). Until 1924 the journal was a quarterly publication, and after that it appeared bimonthly, with a pressrun of 1,700–3,000.
The journal's core section consisted of columns on history, archeology, economics, folklore, ethnography, Ukrainian language, literature, art, and regional studies of Ukraine. Hrushevsky was chief editor of that section and also wrote editorials on prominent cultural personalities and important events in the history of Ukraine. The journal also contained annotated primary sources and documents (memoirs, correspondence, previously unpublished literary works) concerning civic and cultural life in the 19th and early 20th centuries; documents pertaining to the history of Ukraine; criticism and bibliographies of important Ukrainian-studies publications, especially foreign-language publications in the field (Hrushevsky was editor of that section also); a chronicle of scholarly events; notices of the activities of the historical-philological division of the VUAN and its historical section; obituaries of persons in the field of Ukrainian studies; and, from 1927, a bibliographical overview (edited by Yosyf Hermaize).
Certain issues of Ukraïna were devoted to eminent cultural figures (Taras Shevchenko, Mykola Kostomarov, Panteleimon Kulish, Mykhailo Maksymovych, Ivan Franko, Oleksander Lazarevsky, Mykhailo Drahomanov, Volodymyr Antonovych, Pavlo Tutkovsky), important events in the history of Ukraine (the Koliivshchyna rebellion, the Cyril and Methodius Brotherhood, the Revolution of 1905, the centenary of the Decembrist movement, the 10th anniversary of Ukraine's independence struggle [see Struggle for Independence (1917–20)]), and regional topics (Bukovyna, Galician–central Ukrainian relations, etc).
Mykhailo Hrushevsky edited Ukraïna for 16 years (it was often referred to as Hrushevsky's Ukraïna). Among its writers and editors were Mykola Vasylenko, Mykhailo Vozniak, Oleksander Hrushevsky, Volodymyr Doroshenko, Ivan Kamanin, Orest Levytsky, Kostiantyn Mykhalchuk (managing editor in 1914), Mykhailo Mochulsky, Yevhen Onatsky, Volodymyr Peretts, and the non-Ukrainians Grigorii Ilinsky, Fedor Korsh, and Aleksei Shakhmatov. Among those who contributed to the journal from 1924 to 1930 were Dmytro Bahalii, Vasylenko, Vozniak, Yosyf Hermaize, O. Hrushevsky, Hnat Zhytetsky, Serhii Yefremov, Ahatanhel Krymsky, Pavlo Klepatsky, Kostiantyn Koperzhynsky, Ivan Krypiakevych, Pylyp Klymenko, Mykola O. Makarenko, Volodymyr Miiakovsky, Mochulsky, Viktor Novytsky, Oleksii Novytsky, Mykola Petrovsky, Peretts, Viktor Romanovsky, Oleksander Riabinin-Skliarevsky, Fedir Savchenko (who also served as editorial board secretary), Oleksa Syniavsky, Kyrylo Studynsky, Mykola Tkachenko, Pavlo Tutkovsky, Serhii Shamrai, Stepan Smal-Stotsky, Volodymyr Shcherbyna, Viktor Yurkevych, and Borys Yakubsky.
Ukraïna was published under onerous censorship conditions, but it overcame the difficulties to present an objective picture of Ukraine's past. Along with Kievskaia starina and Literaturno-naukovyi vistnyk, Ukraïna was one of the most authoritative journals in the field of Ukrainian studies, and it has remained a good source for research, especially in the area of the national-cultural processes in the 19th and early 20th centuries. Toward the end of 1930 Ukraïna was forced to discontinue publication. The last issue (no. 44) was printed but not released. In its place the Party leadership of the All-Ukrainian Academy of Sciences began to issue a periodical titled Ukraïna, with the subheading Zhurnal tsyklu nauk istorychnykh (Journal of the Cycle of Historical Sciences). Edited by P. Shuran, that journal was of a totally different ideological nature. Its aim was to oppose national Ukrainian historiography, particularly the 'school of Hrushevsky.' In 1932 there were two issues of the new, replacement Ukraïna (no. 1–2 and no. 3); they contained essays sharply critical of Mykhailo Hrushevsky and Mykola Vasylenko (also essays by Petro Kyianytsia and Lev Okinshevych). Then the journal ceased publication.
BIBLIOGRAPHY
Systematychnyi kataloh vydan' Vseukraïns'koï akademiï Nauk: 1918–1929, 1930 (Kyiv 1930, 1931; repr, Chicago 1966)
Zhukovs'kyi, A. 'Mykhailo Hrushevs'kyi i zhurnal Ukraïna,' UI, no. 89–90 (1986)
Arkadii Zhukovsky
[This article originally appeared in the Encyclopedia of Ukraine, vol. 5 (1993).]