Ukrainian Canadian Servicemen's Association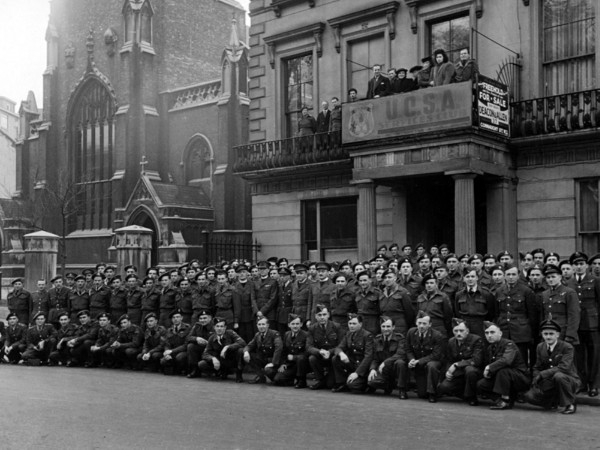 Ukrainian Canadian Servicemen's Association (Союз українських канадських вояків; Soiuz ukrainskykh kanadskykh voiakiv, or UCSA). A service club established in 1943 in Manchester. Formed as a social group to provide a means for Ukrainian-Canadian service personnel overseas to gather with their kinsmen, the UCSA was underwritten by the Ukrainian Canadian Committee (now Congress). It established a Services Club in large rented premises in London (at 218 Sussex Gardens in Paddington), organized several major 'Get-Togethers' (initially in Great Britain and later on the Continent), published the UCSA News Letter, and arranged the recruitment of Ukrainian chaplains for the Canadian troops. More significantly, UCSA members were among the first to become aware of the plight of Ukrainian displaced persons in Europe during the Second World War and played a leading role in efforts to prevent their forced repatriation to the Soviet Union by forming the Central Ukrainian Relief Bureau as a parallel structure to their own for this purpose. The UCSA later laid the groundwork for the establishment of the Association of Ukrainians in Great Britain. The group disbanded shortly after the war and was succeeded in Canada by the Ukrainian Canadian Veterans' Association. Leading figures in the UCSA included Bohdan Gordon Panchuk, J. Yuzyk, and J. Swystun.
Reprints of the UCSA News Letter and other materials related to the group can be found in Ukrainian Canadian Veterans, Royal Canadian Legion, 1926–1986: Memorial Souvenir Book 1 (1986), edited by Bohdan Gordon Panchuk. A memorial plaque at the group's London home was unveiled in 1995. The UCSA papers are housed at Library and Archives Canada as part of the Ukrainian Canadian Veterans' Association collection. A guide to the entire collection, by W. Holowacz and M. Momryk, was published in 1988.
[This article was updated in 2014.]