Ukrainian Catholic University (Rome)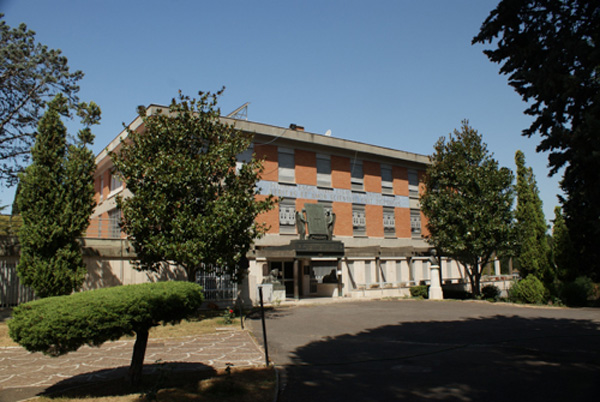 Ukrainian Catholic University (Rome) (Український Католицький Університет; Ukrainskyi katolytskyi universytet im. sv. Klymentiia). An institution of higher learning established in Rome, Italy, on 25 November 1963 by Cardinal Yosyf Slipy of the Ukrainian Catholic church, who also served as its first rector. The university was built in 1965–6 on the grounds of the Saint Sophia Cathedral in Rome and was named in honor of Pope Saint Clement I. At the time of its founding it had an academic staff of twenty four.
From the time of its foundation the university served as a seminary for candidates for the priesthood. It had a library, a museum, and a collection of paintings and icons, which were housed in the Church of the Zhyrovytsi Mother of God. From 1970 the university operated a summer school. In 1981 a course for candidates for the diaconate was initiated. Branches of the university were located in Buenos Aires, Chicago, Washington, DC, Philadelphia, Montreal, and London (some of them are now affiliated with the Ukrainian Catholic University in Lviv). The university published around 200 scholarly volumes, including archival materials Monumenta Ucrainae Historica (14 vols, Rome, 1964–70), 15 volumes of the collected works of Cardinal Yosyf Slipy, and more than 50 other titles pertaining to the history of Ukraine, history of the Ukrainian church, and Ukrainian culture. It also published a pastoral periodical, Blahovisnyk, and a scholarly journal, Dzvony (Rome and Detroit, 1977–81) edited by Bohdan Lonchyna.
With the reopening of the Greek Catholic Theological Academy in Lviv in 1994 by the Lviv synod of bishops of the Ukrainian Catholic church, the Ukrainian Catholic University (Rome) ceased to function as an independent educational and scholarly institution. As a branch of the academy (since 2002 of the Ukrainian Catholic University) in Lviv, it was renamed the Institute of Pope Saint Clement I and began to serve primarily as a dormitory and community center for Ukrainian students and priests studying in Rome's secular and religious schools. After a hiatus of almost 20 years, in 2008 the efforts were made to restore some of the Institute's former educational and scholarly functions. At present its main task is to facilitate the exchange between the Ukrainian Catholic church and the Vatican by holding the international conferences for scholars and students, as well as preserving the tradition of summer schools established by Yosyf Slipy. The Institute continues to operate a library and a museum (renamed Patriarch Yosyf Slipy museum).
BIBLIOGRAPHY
Ukraїns'kyi katolyts'kyi universytet sv. Klymenta-papy i ioho pravna osnova (Rome 1967)
Ukraїns'kyi katolyts'kyi universytet sv. Klymenta-papy v pershomu pi'atylittiu svoho postannia i diial'nosty (Rome 1969)
Ukraїns'kyi katolyts'kyi universytet sv. Klymenta-papy v druhomu p'iatylittiu svoieї diial'nosty (Rome 1974)
Dats'ko, I. 'Ryms'kyi period naukovoї diial'nosti Patriarkha Iosyfa,' Pam'iat' stolit' 6 (2002)
UCU (Rome) web site: https://web.archive.org/web/20111021043827/http://rome.ucu.edu.ua/
Serhiy Bilenky
[This article was written in 2020.]