United Nations Relief and Rehabilitation Administration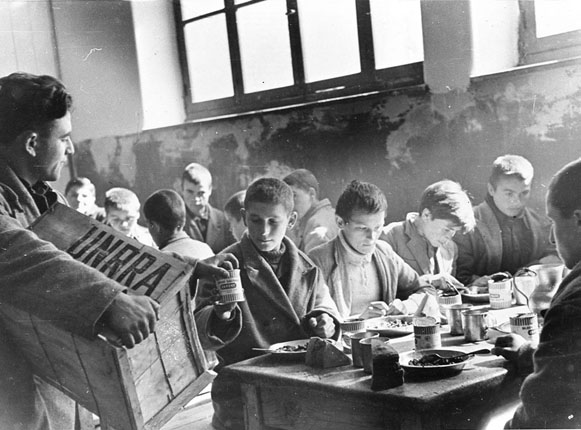 United Nations Relief and Rehabilitation Administration (UNRRA). An international organization created by the Allied and associated powers to plan, co-ordinate, and administer relief (food, fuel, clothing, shelter, medical, and other essential services) for victims of the Second World War in areas controlled by the Allied powers. Its objectives also included assistance in returning prisoners and exiles to their homes and help in the re-establishment of agricultural and industrial production. These goals were broadly outlined in the General Agreement signed on 9 November 1943 by 44 governments. The UNRRA was governed by a council, a central committee (initially consisting of representatives from China, the Union of Soviet Socialist Republics, the United Kingdom, and the United States), a committee on supplies, regional and other special committees, and a director general with the authority to carry out relief operations. Because of special circumstances the Ukrainian Soviet Socialist Republic and the Belorussian Soviet Socialist Republic were admitted to the council on 13 August 1945.
The UNRRA conducted operations only in the occupation zones of the Western powers, since Soviet authorities did not invite the agency into their occupation zones in Germany and Austria. In providing assistance UNRRA officials worked closely with many voluntary relief agencies, which were granted a special status. Neither the United Ukrainian American Relief Committee nor the Ukrainian Canadian Relief Fund was approved by the UNRRA, because a number of its members, including the governments of Canada and the United States, found their anticommunist political activities to be unacceptable. At the peak of its operation, in August 1946, the UNRRA employed a staff of 24,976 and operated 29 servicing or supply offices and 16 missions in receiving countries. Its total resources, based on contributions and receipts, were almost four billion US dollars. It took two years to dismantle the UNRRA and to transfer its functions to new international agencies, such as the World Health Organization (WHO), Food and Agriculture Organization (FAO), International Children's Emergency Fund (UNICEF), and International Refugee Organization (IRO). The UNRRA was closed formally in September 1948.
The Ukrainian SSR. Prior to the Third Council Session (August 1945) the Soviet Union applied to the UNRRA for 700 million dollars' worth of relief and rehabilitation supplies. After surveying conditions in the USSR, American, British, Canadian, and Soviet representatives agreed on a substitute program for Ukraine and Belarus worth 250 million dollars: 189 million dollars for Ukraine and the rest for Belarus. The allocations were free, because neither republic had any foreign reserves. The formal agreement between the Ukrainian SSR and the UNRRA was signed on 18 December 1945 by Director General H. Lehman and Anatolii Baranovsky, a member of the UNRRA Council for the Ukrainian SSR; the target date for the completion of the aid program was 1 July 1946. The UNRRA mission did not arrive in Kyiv until 20 March 1946. It was headed by M. MacDuffie (to June 1946) and then by P. White (August 1946 to August 1947) and consisted most of the time of seven members, including a supply officer and a medical officer. The UNRRA mission at Kyiv was slotted for a staff of 15, but a full complement was never realized; at its peak, personnel at the Ukraine mission numbered 10. UNRRA agricultural and industrial rehabilitation specialists were turned down, supposedly because Soviet experts were better acquainted with Soviet practices and needs.
The mission's chief task was to monitor the distribution of UNRRA supplies. Distribution decisions were worked out not by the mission, but by the host government Supplies Administration and the individual ministries. Approximately 55 percent of all UNRRA goods were allocated for sale, and the remaining 45 percent were distributed free in the most devastated areas. Since most rural districts were considered self-sufficient, the food was directed mainly to urban areas. The food that was sold was offered at fixed prices to ration-card holders. Both prices and rations were determined by USSR authorities. Ration scales were in place throughout 1946 and most of 1947. Information on food rationing was never released to the UNRRA mission because it was considered strategic data. According to UNRRA estimates approximately 10 percent of the food imported was distributed to welfare institutions, particularly to children's homes.
Food imports comprised slightly more than 50 percent of the total dollar value of relief and rehabilitation provided for the Ukrainian SSR (see table 1). Since Ukraine was considered self-sufficient in grain production, wheat or wheat flour was not included in the program, despite the bad harvest and famine of 1946–7. Next in dollar value came industrial rehabilitation goods, notably 'protocol goods,' such as power stations, that had been ordered from Great Britain in 1942, as well as items such as locomotives, trucks, bulldozers, cranes, integrated plants, and raw metals for repairing telecommunications and electrical systems. Agricultural rehabilitation included 18,240 gross long tons of seeds (vegetable, grass, and clover) and 1,500 tractors. Medical supplies constituted the smallest share of the commodities, and all of them were delivered by March 1947: drugs, chemicals, field-hospital equipment, X-ray and dental equipment, and major components for a penicillin plant.
The UNRRA wanted public recognition of its contribution to Ukraine's rehabilitation. Since no provision for acknowledgment was made in the agreement except for a clause concerning UNRRA labels on goods, little press was given to the UNRRA relief effort in the Ukrainian SSR.
Displaced persons. In 1946, after the initial stage of repatriation, an estimated 1.2 million displaced persons remained in Europe. Nearly 200,000 of them were Ukrainians. Thanks to resettlement, by 1947 the number had been reduced to approximately 125,000. As a rule they lived in displaced persons camps in the Western occupation zones of Germany and Austria. In June 1947 about 106,500 Ukrainians were under the care or supervision of the UNRRA (see table 2).
Repatriation became a most difficult issue for the UNRRA. The USSR authorities, in keeping with the council's resolutions, demanded that assistance be withheld from displaced persons who refused to be repatriated. Under the expanded legal definition of Soviet national, which embraced Ukrainian inhabitants of prewar Poland, most Ukrainian displaced persons were subject to repatriation. The Ukrainians, Balts, and so-called Volksdeutsche who refused to be repatriated found some support among council members. After long debate UNRRA assistance was extended to this category of refugees. Bowing to Soviet pressure, the UNRRA, however, promoted repatriation by removing practical obstacles, providing personal information to governments of origin, removing UNRRA personnel who opposed repatriation, and expelling from its camps activists resisting repatriation.
Since supplies were controlled by the military, the primary function of the UNRRA was to distribute the goods. The military was also responsible for health care. Supervision of the medical and sanitation program was assumed at the end of 1945 by the UNRRA. The agency developed a comprehensive vocational training program which equipped several thousand Ukrainians with the skills necessary to emigrate overseas as contract laborers. Since American authorities were opposed to using UNRRA funds for academic or religious instruction, academic education was organized by self-governing bodies set up within the various displaced persons camps. Over a hundred Ukrainian elementary schools and some 35 Ukrainian gymnasiums were opened. The daily regimen of camp life was administered by self-governing bodies which technically were subordinate to the UNRRA. An international university, UNRRA University, was organized in Munich, and many Ukrainians taught or studied there. In this context social, cultural, religious, and political life among the Ukrainian refugees flourished. Recreational associations and theatrical groups proliferated, churches sprang up, and a publishing center prospered in Neu-Ulm. When the UNRRA was dissolved, its functions were assumed by the International Relief Organization.
Bohdan Kordan
[This article originally appeared in the Encyclopedia of Ukraine, vol. 5 (1993).]