Univ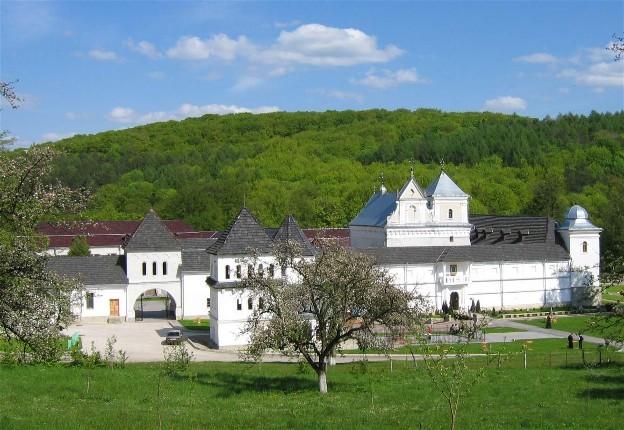 Univ [Унів]. Historically an important Galician monastic center (formerly pop 1,300) with a thriving publishing and printing industry. After the Second World War it was renamed Mizhhiria, but the name Univ was reinstituted in 2003; it is now a village (2201 pop 468) in Peremyshliany raion, Lviv oblast.
In the 14th century the Orthodox church founded the Univ Dormition Monastery, and it was built with fortified walls. In 1618 the hegumen Kyrylo Stavrovetsky-Tranquillon began issuing the expository Zertsalo bohosloviia (Mirror of Theology) on the monastery's mobile printing press. The monastery's permanent press was brought from Lviv by Bishop Arsenii Zhelyborsky. The leading printer Andrii Skulsky worked there from 1646, and a psalter and acathistus were published in 1660. In 1670–1710 the monastery's overseer was the archimandrite Varlaam Sheptytsky, under whom Semen Stavnytsky and Vasyl Stavnytsky printed Vyklad o tserkvi sviatoi (An Essay on the Holy Church, 1670) and D. Kulchytsky printed a psalter (1678). Also at the Univ Monastery Press, the Moldavian metropolitan D. Barila published the important versified psalter Psaltirea pre versuri tocmită (1673, modeled on Jan Kochanowski), an acathistus (1673), and a liturgicon (1679), all in Cyrillic Romanian, translated from Ukrainian texts.
The Univ Dormition Monastery came under the jurisdiction of the Basilian monastic order in 1700–90. During the tenure of Bishop Atanasii Sheptytsky (1722–46) the chronicle Sobranie prypadkov (Collection of Events, 1732) was published, as were liturgicons in 1733, 1740, and 1747.
In all, about 60 books were published by the Univ Monastery Press, and the printing remains an example of typographic excellence. In 1770 the press went into decline because of a clash with the Lviv Dormition Brotherhood. In 1919 Metropolitan Andrei Sheptytsky transferred the Studite Fathers' hegumenate to Univ. They founded a painting school and a bookbindery, and published the monthly Prominchyk sontsia liubovy (1935–9). When Soviet forces occupied Galicia in 1939, the Univ Dormition Monastery's cells were turned into prison cells, and the rest of the buildings were converted into an asylum for the aged. The Studite Fathers' monastery was reinstated in Univ in the early 1990s.
BIBLIOGRAPHY
Petrushevich, A. 'Istoricheskiia izvestiia o drevnei Arkhimandrii chinu sv. Vasyliia Velykogo v sele Uneve, okruga Zolochevskogo,' Pchola, 1849
Butsmaniuk, I. Univ i ioho monastyri (Zhovkva 1904)
Ohiienko, I. 'Univs'ka drukarnia,' in Istoriia ukraïns'koho drukarstva (Lviv 1925)
Bohdan Kazymyra
[This article was updated in 2008.]