Yeletskyi Dormition Monastery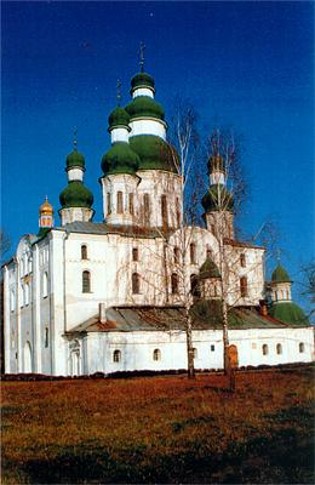 Yeletskyi Dormition Monastery (Yeletskyi Uspenskyi manastyr). One of the oldest monasteries in Ukraine, situated in Chernihiv; founded in 1069 by Sviatoslav II Yaroslavych on the site of an apparition of an icon of Mary in a fir tree (the name of the monastery derives from the Old Church Slavonic yel' 'fir'). The monastery was sacked in 1239 during the Tatar invasion, and not restored until 1445–99. It was damaged again in the early 17th century when the Poles occupied Chernihiv. At that time it was also put under Uniate control. After the Khmelnytsky uprising (see Cossack-Polish War) the monastery returned to Orthodoxy and underwent a revival under Archimandrite Lazar Baranovych (1657–69) and Archimandrite Ioanikii Galiatovsky (1669–88). The complex was restored, and a bell tower, refectory, and other buildings were added. In the late 18th century the monastery's properties were nationalized by the Russian state, and the monastery was granted first-class status. It was closed under Soviet rule and severely damaged during the Second World War. Restored in the early 1950s, it is now a museum preserve.
The central feature of the monastery is the Cathedral of the Dormition, which was built in the late 11th century. It is a three-nave structure typical of the Chernihiv architectural style of that time. The original single cupola was complemented in the 17th century by three smaller cupolas. At the same time, a baroque façade and a side altar (where the monastery's patron, Yakiv K. Lyzohub, was buried) were added to the structure. The bell tower is hexagonal in shape, built in three layers with a single dome on top. Other surviving structures include three buildings containing the monks' cells.
BIBLIOGRAPHY
Dobrovol'skii, P. Chernigovskii Ieletskii Uspenskii pervoklassnyi monastyr': Istoricheskoe opisanie (Chernihiv 1900)
[This article originally appeared in the Encyclopedia of Ukraine, vol. 5 (1993).]