Yohansen, Maik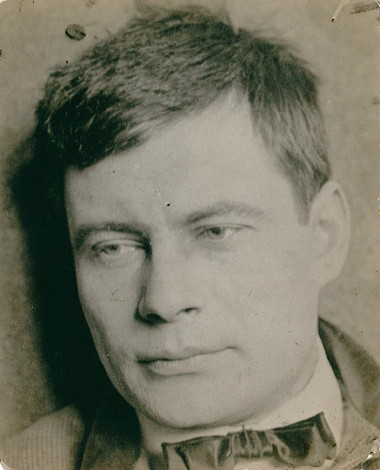 Yohansen, Maik or Mykhailo [Йохансен, Майк or Михайло; Johansen, Majk or Mychajlo; pseudonyms: Willy Wetzelius, M. Kramar], b 28 October 1895 in Kharkiv, d 27 October 1937 in Kyiv. Poet, writer, translator, literary theorist, and linguist of German and Ukrainian parentage. Until 1917 he studied philology at Kharkiv University, graduating with a master's degree. Yohansen wrote in German and Russian until 1917, but only in Ukrainian after 1919. In 1921, with Mykola Khvylovy and Volodymyr Sosiura, he wrote a landmark Ukrainian literary manifesto, 'Our Universal to the Ukrainian Workers and Ukrainian Proletarian Artists,' published in the anthology Zhovten'. Originally a member of the Soviet Ukrainian proletarian writers' organization Hart, in 1925 Yohansen became a founding member of the literary group Vaplite. After the forced dissolution of Vaplite in 1928 by the Soviet authorities, he cofounded and actively contributed to the literary and art periodicals Literaturnyi iarmarok and Universal'nyi zhurnal. He was the only former Vaplite member to question publically the formation of the more populist literary organization Prolitfront, which he refused to join. Instead he founded the apolitical Techno-Artistic Group A, which was officially banned in 1930.
Yohansen's poetic oeuvre can be divided into three distinct periods. His early poetry, including the collections D'hori (To the Peak, 1921), Revoliutsiia (Revolution, 1923), Krokoveie kolo (The Dancing Circle, 1923), Proloh do komuny (Prologue to the Commune, 1924), and Dorobok (Works Thus Far, 1924, which includes many poems from his earlier collections), represents the first, experimental, period of his creativity. During his second period Yohansen produced formally mature and sophisticated verse, gathered in the collection Iasen (The Ash Tree, 1930). His poetry after 1930 represented an attempt at seeking a compromise between his high artistic standards and the Party's mounting pressure to produce socialist-realist works. But Yohansen did not capitulate to the Soviet authorities. Instead, he produced the toned down, artistically accomplished collection Baliady pro viinu i vidbudovu (Ballads about War and Reconstruction, 1933).
Yohansen wrote masterful experimental prose using the technique of uchudnennia, or estrangement (that is, of making the ordinary appear strange or miraculous) and rendering his subject with a humorous edge. He also frequently devised sophisticated literary mystifications. In 1925 his first collection of short stories, 17 khvylyn (Seventeen Minutes), and a novel, Pryhody Mak-Leistona, Harri Ruperta ta inshykh (The Adventures of MacLayston, Harry Rupert, and Others), were published.. His most interesting prose work is his experimental novel Podorozh doktora Leonardo po Slobozhans'kii Shvaitsariï (Doctor Leonardo's Travels through the Switzerland of Slobidska Ukraine, 1928), in which he attempted to make landscape his text's main protagonist, giving his human characters secondary roles. In 1931 two other story collections by Yohansen were published—Zhyttia Haia Serhiievycha Shaiby (The Life of Hai Serhiievych Shaiba, 1931) and Opovidannia pro Maikla Parkera (Stories about Michael Parker, 1931). To avoid conforming to the by then only officially allowed style of socialist realism, Yohansen turned to writing several books of children's literature or anecdotes and humorous sketches in the 1930s. After visiting remote locations in Ukraine and other parts of the USSR, he also produced several books of travel sketches, including Podorozh liudyny pid kepom (The Journey of a Man Wearing a Cap, 1932), Podorozh u Dagestan (A Trip to Dagestan, 1933), and Kos-Chahyl na Embi (Kos-Chagil on the Emba River, 1936).
Yohansen was an accomplished screenwriter and author of several scripts for theatrical productions. He cowrote (with Yurii Tiutiunnyk) the screenplay for Oleksander Dovzhenko's classic Zvenyhora (1927), the silent film many consider the beginning of Ukrainian national cinema. Yohansen also collaborated with Les Kurbas and his influential Berezil theater on several of their productions. Most notably, he was the author of a Ukrainian adaptation of Gilbert and Sullivan's Mikado and, with Mykola Khvylovy and Ostap Vyshnia, of the 1929 Berezil revue Allo na khvyli 477 (Hello on Frequency 477).
At Kharkiv University Yohansen studied linguistics under Leonid Bulakhovsky and Oleksa Syniavsky. He wrote the booklets Elementarni zakony versyfikatsiï (Elementary Rules of Versification, 1922) and Iak buduvaty opovidannia (How to Construct a Short Story, 1926); and studies in phonetics (descriptions of literary and dialectal Ukrainian pronunciation, particularly of the Shyshaky and Myrhorod regions) and on compiling dictionaries. He compiled a Russian-Ukrainian dictionary with Mykola Nakonechny, Kostiantyn Nimchynov, and Borys Tkachenko (1926) and a Russian-Ukrainian dictionary of folk sayings with H. Mlodzinsky; participated in the creation of the standardardized Ukrainian orthography officially adopted in 1928; and worked on a project for the Latinization of the Ukrainian script (see Latin alphabet).
Yohansen was arrested in August 1937, during the Yezhov terror. Soon after he was condemned to death by firing squad for belonging to a fictitious 'Ukrainian bourgeois-nationalist terrorist organization.' The sentence was carried out during the mass executions of political and other prisoners marking the twentieth anniversary of the October Revolution of 1917. Yohansen was posthumously 'rehabilitated' after Joseph Stalin's death. A collection of his selected poetry, edited by Stepan Kryzhanivsky, was published in Kyiv in 1989. Rostyslav Melnykiv edited a book of Yohansen's selected prose, published in Kyiv in 2001.
BIBLIOGRAPHY
Melnykiv, Rostyslav. Maik Iohansen: Landshafty transformatsii (Kyiv 2000)
Lysenko, Ivan. Rechnyk ukraïns'koï kul'tury: Maik Iohansen u spohadakh, lystakh, materialakh (Kyiv 2003)
Ivan Koshelivets, Marko Robert Stech
[This article was updated in 2006.]