Fedkovych, Yurii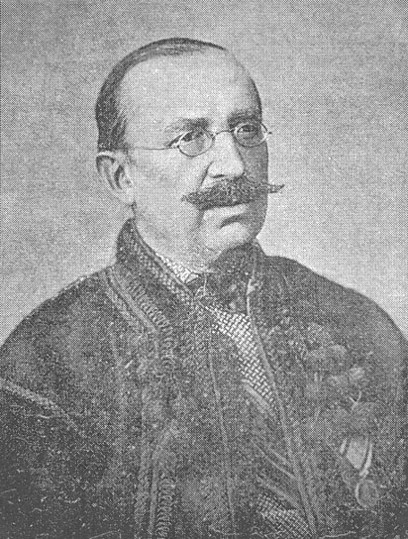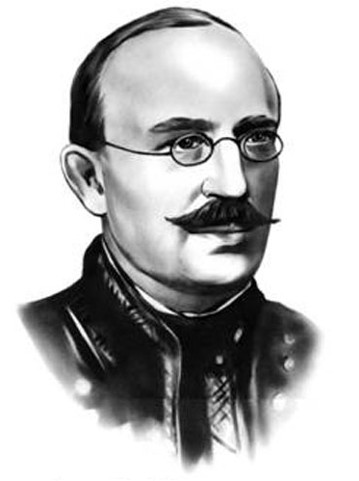 Fedkovych, Yurii [Федькович, Юрій; Fed'kovyč, Jurij], b 8 August 1834 in the village of Storonets Putyliv in Bukovyna, d 11 January 1888 in Chernivtsi. Prominent Ukrainian writer of the late romantic school, herald of the Ukrainian revival in Bukovyna. From 1852 to 1863 he served in the Austrian army and took part in the Italian campaign, during which he wrote his first poem in Ukrainian (up to that time he wrote in German). Retiring as a lieutenant, he worked in his native village as a bailiff from 1863 and as school inspector in Vyzhnytsia county in 1867–72. In 1872–3 he worked in Lviv as an editor in the Prosvita publishing house and in the Ruska Besida Theater. From 1876 to his death he lived in Chernivtsi, where, in 1885–8, he was the first editor of the newspaper Bukovyna. For his contribution to literature he was elected an honorary member of the Shevchenko Scientific Society.
Fedkovych published many poems and stories in Galician and Bukovynian periodicals. His major collections include Poeziï (Poems, 1862) and Poeziï Iuriia Horodenchuka-Fed'kovycha (Poems of Yurii Horodenchuk-Fedkovych, 2 vols, 1867). In his lyrical poetry Hutsul themes predominate: the life of the recruit torn from his home who in despair either deserts or kills himself; the soldier's longing for his native region and his home; and the hardship of a soldier's life. He also wrote poems about the opryshoks ('Dovbush,' 'Iurii Hinda,' 'Luk'ian Kobylytsia'). The influence of Taras Shevchenko is evident in many of his poems.
Fedkovych's first collection of prose, Povisti Osypa Fed'kovycha (The Tales of Osyp Fedkovych, 1876), was published by Mykhailo Drahomanov. The main themes in his prose are village life in Bukovyna ('Farmazony' [The Cheats]), unhappy love ('Liuba-zhuba' [Love Is Fatal]), and the unhappy life of the soldier ('Shtefan Slavych,' 'Safat Zinych'). Some of his stories reveal the influence of Hryhorii Kvitka-Osnovianenko's ethnographic approach and Marko Vovchok's narrative style.
Fedkovych also wrote plays: the comedy 'Tak vam treba!' [You Deserve It! Nyva (1865)], the historical tragedy Khmel'nytskyi (1886–7), the melodrama Kermanych (The Pilot, 1876), the historical drama Dovbush (1869), and a rendering of William Shakespeare's Taming of the Shrew—Iak kozam rohy vypravliaiut' (How the Goats Have Their Horns Straightened, 1872). He also translated Shakespeare's Hamlet and Macbeth.
His poems in German were published in the collections Gedichte von J. Fedkowicz (1865) and Am Tscheremusch! Gedichte eines Uzulen (1882). Fedkovych also translated the poetry of Johann Wolfgang Goethe, Johann Christoph Friedrich von Schiller, Heinrich Heine, the Grimm brothers, Aleksandr Pushkin, and H. C. Andersen.
Despite the obvious influence on his early work of Taras Shevchenko and Marko Vovchok, Fedkovych was a talented and original writer. Many of his poems have become well-known popular songs. His works have been published in Ukraine in many editions. The first full and critical edition of his works was published in four volumes (six books) by the Shevchenko Scientific Society between 1902 and 1938.
BIBLIOGRAPHY
Kolessa, O. Iurii Kosovan (Osyp Dominik Ihor Hordyns'kyi de Fed'kovych): Proba krytychnoho rozboru avtobiohrafichnykh ioho povistei ta ioho zhyttiepysu (Lviv 1893)
Makovei, O. (ed). Materiialy do zhyttiepysi Osypa Iuriia Hordyns'koho-Fed'kovycha (Lviv 1910)
Makovei, O. Zhyttiepys' Osypa Iuriia Hordyns''koho-Fed'kovycha (Lviv 1911)
Iurii Fed'kovych v rozvidkakh i materialakh (Kyiv 1958)
Iurii Fed'kovych: Statti ta materialy, vol 38 of Naukovi zapysky Chernivets'koho universytetu (1959)
Paziak, M. Iurii F. i narodna tvorchist' (Kyiv 1974)
Shalata, M. Iurii Fed'kovych, zhyttievyi i tvorchyi shliakh (Kyiv 1984)
Huts', H. Iu. F. i zakhidnoievropeis'ka literatura (Kyiv 1985)
Arkadii Zhukovsky
[This article originally appeared in the Encyclopedia of Ukraine, vol. 1 (1984).]