Dnipropetrovsk Art Museum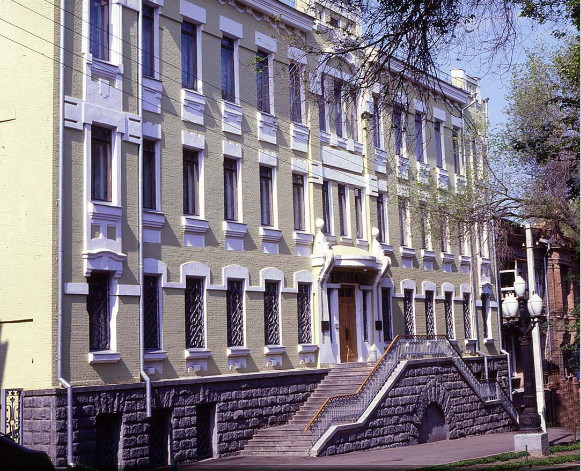 Dnipropetrovsk Art Museum (Дніпропетровський художній музей; Dnipropetrovskyi khudozhnii muzei). Museum established in 1906 in Katerynoslav (now Dnipro) as a result of the initiative of the Katerynoslav Scientific Society and the donations of artists, art collectors, the Saint Petersburg Academy of Arts, the Museum of Antiquities of Katerynoslav Gubernia, and other institutions. The museum was opened in 1914 and renovated in 1923. Some art objects belonging to the gubernial historical museum and to nationalized private collections were transferred to it. The museum contains works of visual art and of decorative-applied art. Its collections are organized into two departments: (1) Ukrainian and Russian art of the 17th–18th century (icons, folk paintings, portraits), and (2) 19th–20th-century art. The most valuable works in the museum's collection are the portraits by Dmytro H. Levytsky, Volodymyr Borovykovsky, O. Venetsiianov, and Mykola Ge; the landscapes by Kostiantyn Trutovsky, Ivan Aivazovsky, K. Makovsky, Ilia Repin, I. Shyshkin, Kyriak Kostandi, I. Levitan, Kostiantyn Kryzhytsky, Serhii Vasylkivsky, Mykola Pymonenko, and Mykola Samokysh; and the sculptures of Vladimir Beklemishev, E. Lansere, and others. From the Soviet period the museum has some works by Mykola Hlushchenko, Vasyl Kasiian, Ivan Znoba, Mykhailo Bozhii, and many Russian artists.
[This article was updated in 2018.]
---
List of related links from Encyclopedia of Ukraine pointing to Dnipropetrovsk Art Museum entry:
A referral to this page is found in 2 entries.