Kmit, Mykhailo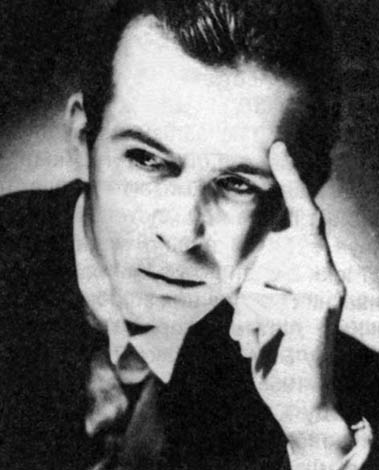 Kmit, Mykhailo or Michael [Кміт, Михайло], b 25 July 1910 in Stryi, Galicia, d 22 May 1981 in Sydney, Australia. Modernist painter. He attended the Novakivsky Art School in Lviv in 1932 and was influenced by Oleksa Novakivsky's style of painting. His artistic tastes were also shaped by the expressionist, constructivist, and cubist artworks displayed at exhibitions organized by the Association of Independent Ukrainian Artists and the experimental group Artes. The Neo-Byzantine style, represented by such artists as Petro Kholodny or Mykhailo Osinchuk, was also of formative importance for Kmit's future work. Subsequently, thanks to a financial support of Metropolitan Andrei Sheptytsky, Kmit studied at the Cracow Academy of Arts (1933–9, under Władysław Jarocki and Fryderyk Pautsch) and did some art research in Italy, Germany, and Czechoslovakia. In Cracow he was a member of the Zarevo artists' group. During the Second World War Kmnit taught at an elementary school in Biała Podlaska (1939–41) and then at the Art and Trade School in Lviv. Residing in Lviv in 1941–4, he took an active part in the city's art scene, was a member of the Labor Association of Ukrainian Pictorial Artists, and exhibited his works at the association's exhibitions. A postwar displaced person in Austria, Kmit emigrated to Australia in 1949 and he quickly gained recognition for his work there. He won a number of prizes for his paintings, including first prize in the Blake Competition (1954), the Perth Prize (1954), the Critic's Prize for Contemporary Art (1955), the Darcy Morris Memorial Prize (1956), the Sulman Prize (1957, 1970), and the Melrose Prize (1967). Kmit's art was a major influence on many Australian artists, particularly those of the Merioola Group and on several key members of the Sydney Society of Artists. His paintings were acquired by public galleries in Sydney and Melbourne and by the National Gallery in Canberra. An attempt to establish himself as a painter in the United States of America (1958–65) did not succeed, and he returned to Australia. Almost all of Kmit's paintings deal with the human, most often female, figure. Some of his works have a religious theme and were influenced by the Byzantine and Ukrainian traditions of icon painting; his Amen was reproduced on a postcard published by UNESCO. He executed some landscapes only in the 1940s and he did not paint genre scenes. Kmit's style is expressionist, complicated sometimes with cubist or Neo-Byzantine traits. His forte was color as he was considered to be the most sumptuous colourist among the Australian artists of his time.
BIBLIOGRAPHY
Ladyzhyns'kyi, V. 'Mykhailo Kmit,' Notatky z mystetstva/Ukrainian Art Digest, no. 23 (Philadelphia 1983)
Popovych, V. 'Mykhailo Kmit (1919–1981),' Suchasnist', 1986, nos. 7–8
Voloshyn, L. 'Mykhailo Kmit – mystets' svitovykh horyzontiv,' Zbruc.eu 24.09.2020
Marko Robert Stech
[This article was updated in 2021.]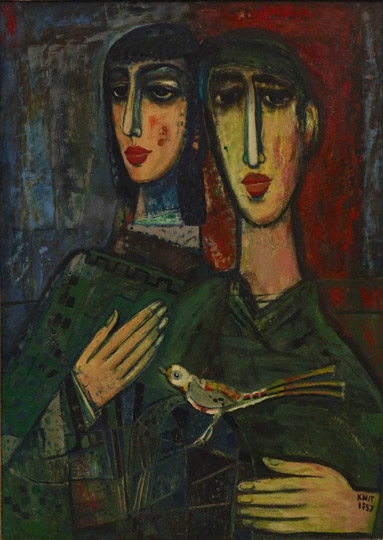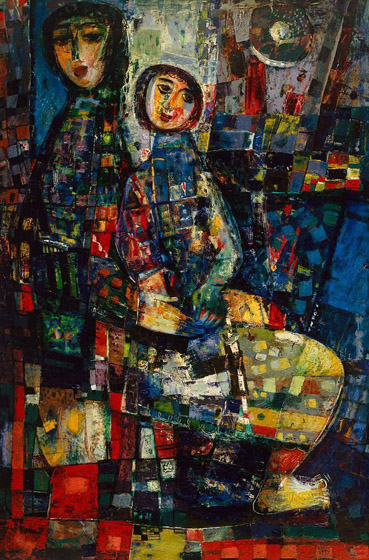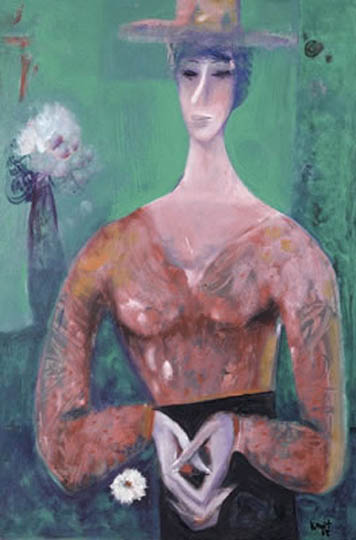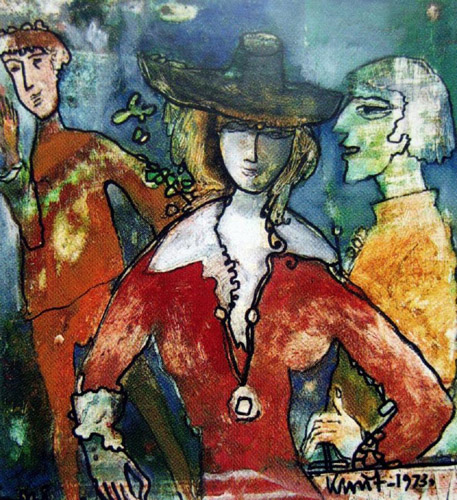 ---
List of related links from Encyclopedia of Ukraine pointing to Kmit, Mykhailo entry:
A referral to this page is found in 3 entries.