Ovsiichuk, Volodymyr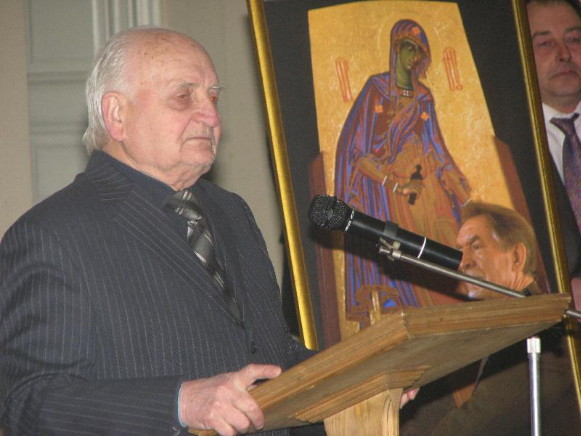 Ovsiichuk, Volodymyr [Овсійчук, Володимир; Ovsijčuk], b 28 July 1924 in Malyi Sknyt, Shepetivka okruha, d 26 July 2016 in Lviv. Art historian, professor at the chair of sacred art at the Lviv National Academy of Arts. A graduate of Lviv University (1952), he did postgraduate work at the Hermitage in Leningrad. Later he worked at the Lviv branch of the Institute of Fine Arts, Folklore, and Ethnography of the Academy of Sciences of the Ukrainian SSR and at the Lviv Art Gallery. A specialist in Renaissance and baroque art and the artists of Lviv, he has published many articles and several books on Ukrainian art, including Ukraïns'ke mystetstvo druhoï polovyny XVI – pershoï polovyny XVII st. (The Ukrainian Art of the Second Half of the 16th and First Half of the 17th Centuries, 1985), Maistry ukraïns'koho barokko (Masters of Ukrainian Baroque, 1991), Ukraïns'ke maliarstvo X – XVIII st. Problemy kolioru (The Ukrainian Art of the 10th to 18th centuries: The Problem of Colour, 1996), an album-monograph on Oleksa Novakivsky (1998), and others. Ovsiichuk was awarded the Shevchenko Prize in 1994.
[This article was updated in 2016.]
---
List of related links from Encyclopedia of Ukraine pointing to Ovsiichuk, Volodymyr entry:
A referral to this page is found in 3 entries.