Mizyn National Nature Park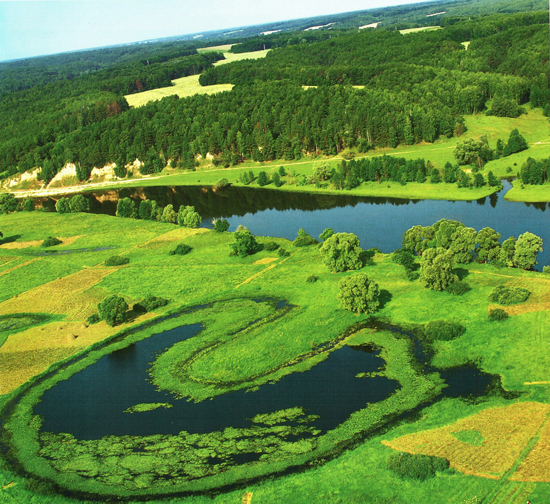 Mizyn National Nature Park [Мізинський національний природний парк, Mizynskyi natsionalnyi pryrodnyi park] or Mezyn National Nature Park. A national park established in 2006 on the basis of the Rykhlivska Dacha Nature Reserve (with the area of 789 hectares) and several smaller nature preserves. It is situated along the Desna River (primarily on the river's right bank) in and around the village of Mizyn in Korop raion, Chernihiv oblast, approximately 110 km from Chernihiv and 50 km from Kharkiv. The park covers the area of 31,035 hectares of which 8,544 hectares are designated for permanently protected areas. The park was created to protect sensitive ecological and archeological sites, including over fifty archeological sites dating back to the late Paleolithic Period (most notably, the Mizyn archeological site—one of the most important and better known examples of Magdalenian culture in Ukraine), seven sites dating back to the Mesolithic Period, and several Yukhnove culture settlements.
The park's largest component is the ecosystem of wetlands and floodplains created by the Desna River and several of its small tributaries that features a considerable number of small lakes. A part of the Dnipro Lowland, the area of the park represents an undulating plain with hills rising up to approximately 200 m above the sea level. Over 40 percent of the park's area is covered by forests (lime-oak and maple-lime-oak), while 16 percent is covered by steppe vegetation and meadows, and 6 percent by waterways and wetlands. Some 35 percent of the area of the park represents agricultural land and a few small villages. The flora of the park is represented by over 600 species of plants. 143 species of birds, 30 species of fish, and 19 species of mammals have been recorded in the park; 68 species of fauna have been entered into Ukraine's Red Book of endangered species. The park also houses three museums, including the Mizyn Archeological Museum established on the basis of the finds at the Mizyn archeological site.
Marko Robert Stech
[This article was written in 2020.]