Nova khata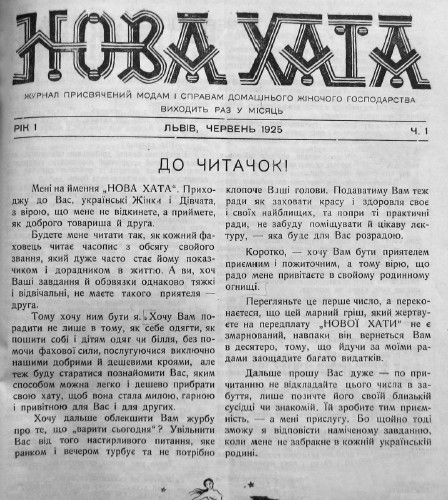 Nova khata [«Нова хата»; New Home]. A monthly (1925–34) and semimonthly (1935–9) magazine for women, published in Lviv by the Ukrainske Narodnie Mystetstvo co-operative. The chief editors were M. Furtak, M. Hromnytska, and, from 1930, Lidiia Burachynska. Nova khata contained articles on folk art, co-operative movement and educational subjects, fashion, interior decorating, housekeeping, cultural history, and the women's movement; biographies and memoirs of prominent Ukrainian women; and prose and poetry. It was noted for its design and artwork, by artists such as Olena Kulchytska, Mykola Butovych, and Sviatoslav Hordynsky.
[This article originally appeared in the Encyclopedia of Ukraine, vol. 3 (1993).]
This subject is not referenced in any other entries in the Internet Encyclopedia of Ukraine.