Kryvyi Rih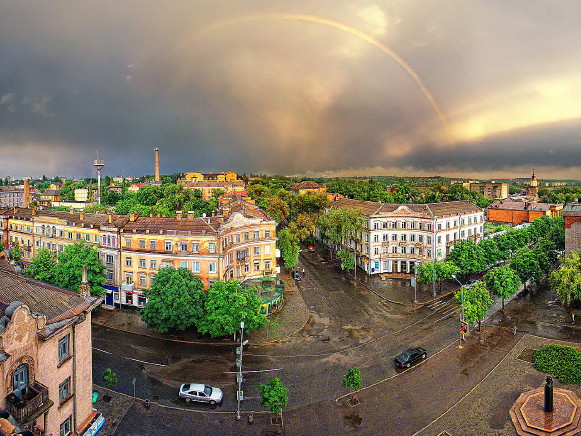 Kryvyi Rih [Кривий Ріг; Kryvyj Rih]. Map: VI-14. City (2018 pop 629,695) and raion center in Dnipropetrovsk oblast, situated at the confluence of the Inhulets River and the Saksahan River. A major industrial center in the Kryvyi Rih Iron-ore Basin and the eighth-largest city in Ukraine, it is divided into six city raions. It arose in the 17th century as a concentration of winter homesteads of the Zaporozhian Cossacks. It came under Russian rule in 1774 and from 1803 was part of Kherson gubernia. From 1829 to 1860 it was a military settlement. The beginnings of its industrial growth coincided with the exploitation of the Kryvyi Rih Iron-ore Basin from 1881 and the construction of a railroad linking the basin with the Donets Basin. Consequently its population increased from 3,650 in 1859 to 15,000 in 1897 and 18,000 in 1910. Under Soviet rule the city was an okruha center in 1923–32. It underwent intensive industrialization in the 1930s, and its population multiplied from 19,000 in 1923 to 31,300 in 1926 (69 percent Ukrainian, 18 percent Jewish, 10 percent Russian), 197,600 in 1939, and 212,900 in 1941. During the Second World War the city's industries were evacuated to the east and its mines were dynamited before it was occupied by German troops (August 1941–February 1944).
After the Second World War, Kryvyi Rih was extensively rebuilt and developed, and its population grew to 408,000 in 1959 and 581,000 in 1970. A major center of mining and ferrous metallurgy, it has 24 mines, 4 mineral-enrichment complexes, a mining-equipment plant, a coke-chemical plant, and numerous factories producing machinery, metal products, and building materials. Wool, footwear, clothing, food, and wood products are also manufactured there. Located in the city are 7 scientific-research and planning-and-design institutes, including a mining and a work safety and ecology institute, Kryvyi Rih National University, the National Transportation University, and other institutions of higher learning; 15 specialized secondary schools; a music-and-drama theater and a puppet theater; a regional studies museum; and a circus. Approximately, 71 percent of the population of Kryvyi Rih is Ukrainian, 27 percent Russian, and just over 1 percent of other ethnic background.
[This article was updated in 2018.]
Click Home to get to the IEU Home page; to contact the IEU editors click Contact.
To learn more about IEU click About IEU and to view the list of donors and to become an IEU supporter click Donors.
©2001 All Rights Reserved. Canadian Institute of Ukrainian Studies.