Children's folklore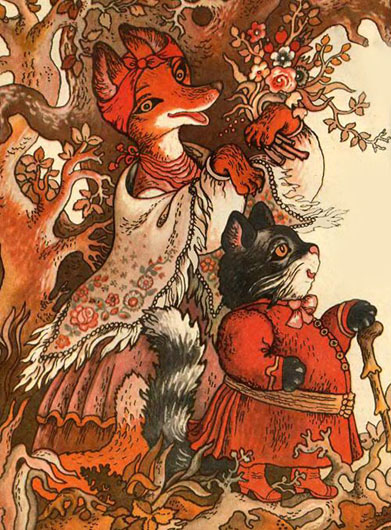 Children's folklore. Folk oral literature created by adults for children, some of the folklore created for adults that has turned into oral poetry for children, and the oral poetry created by children. The characteristic feature of children's folklore is its clear educational purpose. The material in this field differs according to the ages of the children at which it is aimed. The basic genres of children's folklore are cradle songs, lullabies, humorous songs, nonsense stories, teasing jests, counting songs, song games, children's ritual songs of the annual cycle (carols, New Year's songs, spring songs), proverbs and sayings, riddles, and folk stories for children (particularly stories about animals).
Cradle songs are the first examples of children's folklore that children hear from their mothers. They are remarkable for their poetic beauty, tenderness, sincerity, vivid imagery, and playful language. In them one often comes across the image of the purring cat, the personification of sleep and drowsiness, and the figures of various animals and birds. Lullabies and soothing songs have a pronounced rhythm and a wide range of sounds. They are often sung while the child is being fondled. Counting songs help the child memorize the number sequence.
A special place in children's folklore is occupied by folk stories. Each age group has its own stories. For the smallest children there are 'Kolobok' (The Ball), 'Ripka' (The Turnip), 'Ivasyk-Telesyk,' and 'Rukavychka' (The Mitten). For children of school age there are 'Kotyhoroshok' (Pea-roller) and many magic stories that end in the victory of good over evil. Children's folklore contains many ancient inventions, such as games ('We Sowed Millet,' 'Poppies Are Growing on the Hill,' and 'The Quail') and dance games ('The Sad Rabbit' and 'The Noise').
Children's folklore began to be published in the 1830s–1840s. Ukrainian poets such as Lesia Ukrainka, Stepan Rudansky, Yakiv Shchoholiv, and Oleksander Oles have written many poems on the model of popular cradle songs. Folk stories have inspired many prose works and literary adaptations of folk stories. They have had an important influence on such writers as Marko Vovchok, Ivan Franko, and Mykhailo Kotsiubynsky. (See also Children's literature.)
BIBLIOGRAPHY
Kosach-Kvitka, Larysa (ed). Teksty—Dytiachi hry, pisni, kazky z Kovel'shchyny, Lushchyny ta Zviahel'shchyny na Volyni. Voice notation by Klyment Kvitka (Kyiv 1903)
Vynohradov, H. Dytiachyi fol'klor i poeziia pestuvannia, 2 vols (Kyiv 1947)
Ukraïns'kyi dytiachyi fol'klor (Kyiv 1962)
Nad kolyskoiu. Ukraïns'ki kolyskovi pisni ta virshi (Kyiv 1963)
Stupak, Iu. 'Narodna poetychna tvorchist' dlia ditei,' in D. Bilets'kyi and Iu. Stupak, Ukraïns'ka dytiacha literatura (Kyiv 1963)
Hoshovs'kyi, B. 'Ukraïns'kyi dytiachyi folkl'or,' in My i nashi dity, 1 (Toronto–New York 1965)
Petro Odarchenko
[This article originally appeared in the Encyclopedia of Ukraine, vol. 1 (1984).]