Hramota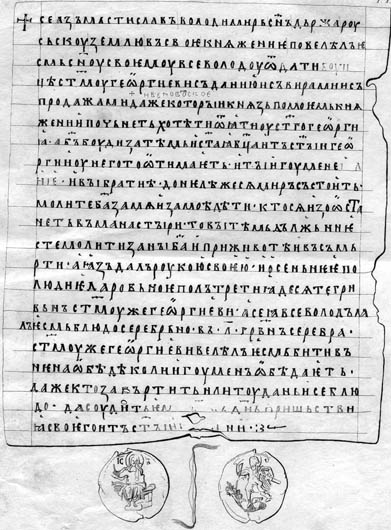 Hramota [грамота]. A charter or a type of legal document or writ particularly common in the Princely era and in the Lithuanian-Ruthenian state. Hramoty can generally be divided into three categories: those issued by a ruler or government office, conferring privileges or guaranteeing historic rights; those issued by private parties (wills, testaments, contracts); and those issued by the church. Princes used hramoty, for example, to confer privileges on foreign traders (Prince Andrii Yuriiovych's hramota of 1320) or the rights of Magdeburg law on cities (Sianik 1339). The oldest hramoty found in Ukraine date back to the 12th century (Prince Mstyslav I Volodymyrovych's charter of 1130).
In the Grand Duchy of Lithuania hramoty granted certain rights to whole segments of the population (eg, nobles or Jews) or guaranteed existing rights of customary law of individuals or groups. In the so-called land charters grand dukes confirmed the historic rights of whole provinces, particularly Ukrainian and Belarusian, guaranteeing the traditional systems of law. Over 10 such charters from the 15th and 16th centuries, some containing references to even older writs pertaining to Volhynia, the Kyiv region, Galicia, and Podlachia, have been preserved. Although these writs lost their legal force when state-wide codes such as the Lithuanian Statute were introduced, they are nevertheless important as sources for the history of Ukrainian law.
In the Cossack period the Russian tsars and their government offices (prikazy) issued various hramoty, particularly land deeds to Ukrainian officers loyal to the tsar and to Slobidska Ukraine regiments, often in competition with universals issued by hetmans and colonels. In 1785 Catherine II extended the Charter of the Nobility to Ukraine, thus endowing the Ukrainian upper class with the rights of the Russian gentry.
Individual documents used in church administration, particularly charters of privilege such as stauropegion granted to brotherhoods, also took the form of a hramota.
During the period of the Hetman government in 1918, important legal state documents such as the proclamation of a new government and a new provisional constitution, the agrarian reform act, the act of federation with Russia, and the hetman's renunciation of power were called hramoty.
Hramoty are important sources for the history of the Ukrainian language because of the greater similarity to the vernacular than is, for example, present in church texts. Their language has its own localized traditions characterized by variations in phraseology and orthography. No private legal hramoty from the period of Kyivan Rus' have been preserved, except for Mstyslav I Volodymyrovych's charter of 1130, which contains no striking Ukrainian linguistic features. Three charters from 1288–9 are included in the text of the Galician-Volhynian Chronicle. A more systematic collection of hramoty from Volhynia dating back to 1350, from Galicia dating back to 1359, and from the Kyiv region dating back to 1427 has been preserved. About 100 of the earliest writs from the mid-14th to the mid-15th century were published in Volodymyr Rozov's Ukraïns'ki hramoty (Ukrainian Charters, 1928). Their language was studied by Vasyl Demianchuk in his Morfolohiia ukraïns'kykh hramot XIV i pershoï polovyny XV v. (The Morphology of Ukrainian Charters of the 14th and the First Half of the 15th Century, 1928) and by Władysław Kuraszkiewicz in his Gramoty halicko-wołyńskie XIV–XV w. (Galician-Volhynian Charters of the 14th–15th Centuries, 1934). Newer editions—M. Peshchak's Hramoty XIV st. (Charters of the 14th Century, 1974) and Vitalii Rusanivsky's Ukraïns'ki hramoty XV st. (Ukrainian Charters of the 15th Century, 1965)—uncritically reproduce many texts from later copies or from unreliable publications. Later charters from these territories have been partially published with questionable accuracy in the series Akty, otnosiashchiesia k istorii Iuzhnoi i Zapadnoi Rossii (1863–92), Akty, otnosiashchiesia k istorii Zapadnoi Rossii (1846–53), Akty izdavaiemye Vilenskoiu arkheograficheskoiu komissieiu (1868–88), and Zherela do istoriï Ukraïny-Rusy (1895–1900), and in the publications of gubernial archival commissions, especially in Chernihiv and Poltava (see Poltava Gubernia Learned Archival Commission).
Of some historical significance are the so-called Moldavian hramoty dating back to 1388 and covering the entire 15th century. They were written by Ukrainian and Romanian scribes in the Ukrainian tradition of chancellary language in Bessarabia and Moldavia. Besides being published in earlier, unreliable editions by V. Ulianitsky and Omelian Kaluzhniatsky, they appeared in scholarly editions by Eudoxiu Hurmuzachi (1890–1), A. Yatsimirsky (1907), M. Costçachescu (1931–3), I. Bogdan (1913, 1938), Gh. Ghibănescu (1906–26), and others. They were studied from the linguistic standpoint by I. Bogdan (1908), A. Yatsimirsky (1910), Volodymyr H. Yaroshenko (1931), and Ivan Ohiienko (1935). Extant charters from Transcarpathia date back to 1404 and have been published and studied by Aleksei L. Petrov and Georgii Gerovsky.
George Yurii Shevelov
[This article originally appeared in the Encyclopedia of Ukraine, vol. 2 (1988).]