Isaievych, Yaroslav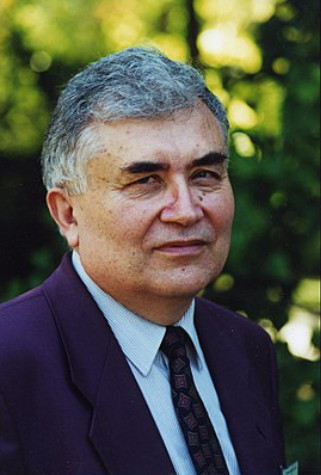 Isaievych, Yaroslav [Ісаєвич, Ярослав; Isajevyč, Jaroslav], b 7 March 1936 in Verba, Dubno county, Volhynia, d 24 June 2010 in Lviv. Historian; full member of the National Academy of Sciences of Ukraine (from 1992) and foreign member of the Polish Academy of Sciences (from 1994). His father, Dmytro Isaievych, was an active participant in the Ukrainian struggle for independence (1917–20) and a noted politician, a member of the Central Rada and an envoy of the Ukrainian National Republic at Paris Peace Conference in 1919. Yaroslav Isaievych studied history at Lviv University under the guidence of Dmytro Pokhylevych. He graduated in 1957 with a thesis devoted to the history of Drohobych in the 15th to 18th centuries. In 1958 he was appointed (by Ivan Krypiakevych) a research associate at the Institute of Social Sciences of the Academy of Sciences of the Ukrainian SSR in Lviv; in 1983 he became head of the institute's cultural history department. In 1978 in Moscow he defended his doctoral dissertation entitled Istoriia knigopechataniia na Ukraine i ego rol' v mezhslavianskikh kul'turnykh sviaziakh (XVI–pervaia polovina XVII st.) (The History of Book Printing in Ukraine and Its Role in Inter-Slavic Cultural Relations: the 16th to First Half of the 17th Century). In the meantime Isaievych established himself as a leading authority on the cultural and economic history of the pre-18th century Galicia (particularly the history of towns and of printing) with works such as Bratstva ta ïkh rol' v rozvytku ukraïns'koï kul'tury XVI–XVIII st. (Brotherhoods and Their Role in the Development of Ukrainian Culture in the 16th–18th Century, 1966), Dzherela z istoriï ukraïns'koï kul'tury doby feodalizmu XVI–XVIII st. (Sources on the History of Ukrainian Culture in the Feudal Period of the 16th–18th Century, 1972), and Preemniki pervopechatnika (Successors of the First Printer, 1981); catalogues of early books printed in Ukraine (1981 and 1984); and biographies of Yurii Drohobych (1972) and Ivan Fedorovych (Fedorov) (1975). His major field of research was the history of Ukrainian culture, to which he devoted more than 700 scholarly works, including fifteen monographs, many essays in collective publications, and numerous articles in Ukrainian and foreign scholarly journals.
While continuing to work at the Institute of Social Sciences of the Academy of Sciences of the Ukrainian SSR, Isaievych occasionally taught at various postsecondary institutions, such as Lviv University (1967–69), Ivano-Frankivsk Pedagogical Institute (1981–83), and later in his life at the Kyivan Mohyla Academy National University. In 1988–90 he was a visiting professor at Harvard University and a research fellow at the Harvard Ukrainian Research Institute.
In 1989 Isaievych became director of the Institute of Social Sciences and then the first director of its successor, the Institute of Ukrainian Studies of the National Academy of Sciences of Ukraine (1993–2010). In 1990 he was elected a corresponding member and in 1992 a full member of the National Academy of Sciences of Ukraine. In 1993–98 he headed the academy's Section of History, Philosophy, and Law. He quickly emerged at the forefront of Ukrainian studies in independent Ukraine, serving as head of the National Committee of Historians of Ukraine (1995–2010) and president of the International Association of Ukrainianists (1993–9). He was elected a foreign member of the Polish Academy of Sciences in 1994 and a member of the Ukrainian Free Academy of Sciences in 2003. In 2008 he received the Mykhailo Hrushevsky medal from the Shevchenko Scientific Society (NTSh) in Ukraine for his contribution to the development of scholarship and culture in Ukraine and for his role in the restoration of the NTSh in Ukraine.
Among Isaievych's major publications in this period are a collection of his earlier essays that appeared as Ukraïna davnia i nova: Narod, relihiia, kul'tura (Ukraine Old and New: People, Religion, Culture, 1996), L'viv: Istorychnyi narys (Lviv: A Historical Survey, co-editor, 1996), and Ukraïns'ke knyhovydannia: Vytoky, rozvytok, problemy (Ukrainian Book Publishing: Its Origins, History, and Problems, 2002), the latter work tracing the evolution of book publishing in Ukraine until the late 20th century. In 1998 he became one of the editors of Dokumenty do istoriï zaporoz'koho kozatstva 1613–1620 rr. (Documents from the History of Zaporozhian Cossacks: 1613–1620), a publication of the selected Ukrainian Cossack sources from Russian archives cosponsored by the Peter Jacyk Centre for the Ukrainian Research at the Canadian Institute of Ukrainian Studies (CIUS). In 2006 an English translation of a revised version of his 1966 monograph on the brotherhood movement in early modern Ukraine was published by the CIUS Press as Voluntary Brotherhood: Confraternities of Laymen in Early Modern Ukraine. Isaievych also wrote a number of entries for historical encyclopedias and dictionaries, such as Entsyklopediia istoriï Ukraïny, Entsyklopediia suchasnoï Ukraïny, Polski Słownik Biograficzny, and Encyclopedia of the Middle Ages published in English, French, and Italian.
From the early 1990s he actively supported the Ukrainian-Polish historical debates and also contributed to the attempts at reconciliation between Ukrainians and Poles (eg, 'Ukrainians and Poles: Recent Developments in Politics and National Historiographies,' Journal of Ukrainian Studies, Summer 1996). He dealt with the most controversial issues of the Polish-Ukrainian relations as an editor of Volyn' i Kholmshchyna 1938–1947 rr.: pol's'ko-ukraïns'ke protystoiannia ta ioho vidlunnia. Doslidzhennia, dokumenty, spohady (Volhynia and Kholm Region, 1938–1947: The Polish-Ukrainian Conflict and Its Repercussions. Studies, Documents, and Memoirs, 2003). A bibliographic guide to Isaievych's works, compiled by M. Boianivska and edited by Yu. Yasynovsky, was published in 1999. A festschrift in his honor, edited by Bohdan Yakymovych, appeared in 1998 as Prosphonema. Miscellanaea et Philologica. Iaroslavo Isaievych Sexagenario Dedicata.
BIBLIOGRAPHY
Boianivs'ka, M. (comp). Iaroslav Isaievych: Bibliohrafichnyi pokazhchyk (Lviv 1999)
Dubrovina, L. 'Akademik Yaroslav Dmytrovych Isaievych – ukraїns'kyi istoryk, kul'turoloh, entsyklopedyst,' in Confraternitas. Iuvileinyi zbirnyk na poshanu Iaroslava Isaievycha / Ukraïna: kul'turna spadshchyna, natsional'na svidomist', derzhavnist' (Lviv 2006–7)
Iasynovs'kyi, Iurii. 'Bibliohrafiia Iaroslava Isaievycha,' in Confraternitas. Iuvileinyi zbirnyk na poshanu Iaroslava Isaievycha / Ukraïna: kul'turna spadshchyna, natsional'na svidomist', derzhavnist' (Lviv 2006–7)
Pryshliak, V. 'Iaroslav Dmytrovych Isaievych (1936–2010),' Ukraïns'kyi arkheohrafichnyi shchorichnyk, no. 15 (2010)
Portnov, Andrii. Istoriï istorykiv. Oblychchia i obrazy ukraïns'koï istoriohrafiï XX stolittia (Kyiv 2011)
Serhiy Bilenky
[This article was updated in 2017.]