Paris Peace Conference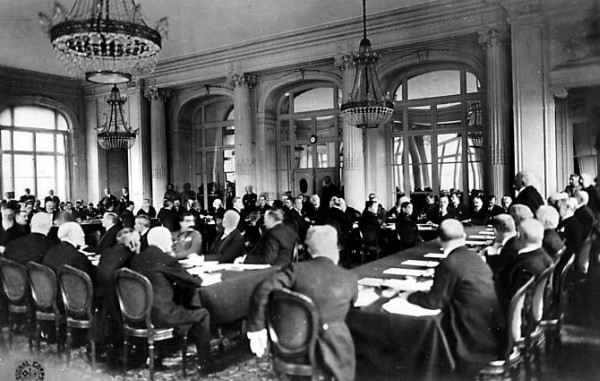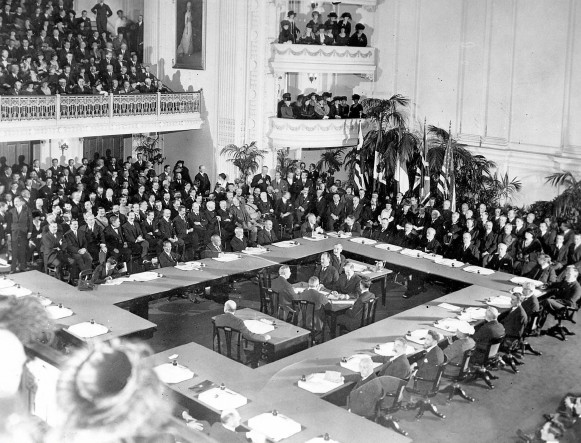 Paris Peace Conference. The meeting that arranged the international settlement after the First World War. It opened on 18 January 1919 and was dominated by the victorious Entente powers of the United States, France, Great Britain, and Italy and presided over by Premier Georges Clemenceau. The new republics of Poland, Czechoslovakia, and Romania were each allowed two representatives, but Soviet Russia was not recognized and was excluded. The government of the Directory of the Ukrainian National Republic sent a delegation headed by Hryhorii Sydorenko (replaced in August by Mykhailo Tyshkevych) to lobby for admission to the conference, recognition of Ukraine's independence, the withdrawal of Polish, Romanian, and Allied forces from Ukraine, and support for its war against Soviet Russia. The delegation, which included Vasyl Paneiko, Arnold Margolin, Oleksander Shulhyn, Serhii Shelukhyn, Borys Matiushenko, A. Halip, Makar Kushnir, Stepan Tomashivsky, S. Zarkhii, A. Petrushevych, O. Kulchytsky, D. Isaievych, P. Didushok, Vladimir Timoshenko, V. Kolosovsky, Mykola H. Levytsky, Oleksander Sevriuk, and Fedir Savchenko, submitted memorandums to the conference's General Secretariat. The delegation's extraordinary members, Mykhailo Lozynsky and Dmytro Vitovsky, lobbied for a Ukrainian-Polish armistice on behalf of the Western Province of the Ukrainian National Republic. Ukrainian representatives from Canada and the United States (Osyp Megas, Ivan Petrushevych, K. Bilyk, J. Hamill) aided the delegation. From December a separate Western Ukrainian National Republic delegation headed by Paneiko lobbied for Western Ukrainian independence. It submitted memorandums and documents, and protests against the Polish occupation written by Lozynsky, Vitovsky, Yevhen Levytsky, Tomashivsky, Volodymyr Temnytsky, and O. Burachynsky. Transcarpathian leaders (eg, Antin Beskyd, Hryhorii Zhatkovych) submitted memorandums to the conference supporting the incorporation of Transcarpathia into Czechoslovakia.
The conference produced the Covenant of the League of Nations and the Treaty of Versailles (with Germany), Treaty of Saint-Germain (with Austria), and Treaty of Neuilly (with Bulgaria). Before it was brought to an end with the formal inauguration of the League of Nations on 16 January 1920, it also designated the Curzon Line as Poland's eastern border and laid the groundwork for the 1920 Treaty of Trianon (with Hungary) and Treaty of Sèvres (with Turkey) and the work of the Conference of Ambassadors. Although national self-determination was one of its basic principles, the conference did not officially recognize the Ukrainian delegations or Ukraine's independence, but favored instead (under Russian anti-Bolshevik and American influence) the preservation of the territorial integrity of the Russian Empire. It did not undo the occupation of the Western Ukrainian lands by Poland, Czechoslovakia, and Romania, although it tried to put an end to the Ukrainian-Polish War in Galicia, 1918–19, Ukrainian-Soviet War, 1917–21, and Russian civil war (see Berthélemy Mission, Louis Botha). Under pressure from the pro-Polish French and American delegates (including Clemenceau and President Thomas Woodrow Wilson), the conference sanctioned the Polish occupation of Galicia.
BIBLIOGRAPHY
Décisions du Conseil Suprême sur la Galicie Orientale: Les plus importants documents, intro M. Lozynsky (Paris 1919)
Notes présentées par la Délégation de la République Ukrainienne à la Conférence de la Paix à Paris (Paris 1919)
Lozyns'kyi, M. Halychyna v rr. 1918–1920 (Vienna 1922; repr New York 1970)
Thompson, J.M. Russia, Bolshevism, and the Versailles Peace (Princeton 1966)
Lundgreen-Nielsen, K. The Polish Problem at the Paris Peace Conference: A Study of the Policies of the Great Powers and the Poles, 1918–1919 (Odense 1979)
Roman Senkus
[This article originally appeared in the Encyclopedia of Ukraine, vol. 3 (1993).]